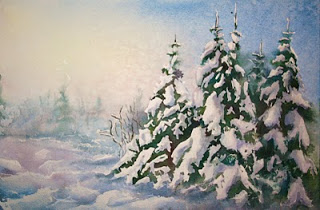 It has been a crazy week being that it is the week before Christmas. School concerts, holiday parties, and lunches with friends that either have time off work and/or want to do it before the kids are home. And let's not forget the shopping, the baking, and the wrapping! I was hoping to get more done by now but I am lucky to be standing by the end of the day.
This painting I did do today – in between all the craziness. I am teaching a one day class on snow in January. I need a quick and easy lesson for my students. It needs to be something they can go home with at the end of the day. So this is a test run of what I will probably do with them. I am not that familiar with painting snow scenes myself. I really don't like the stuff after living in Boston for 8 years and having one of the longest driveways ever.
Now that I live in Victoria, I decide to paint snow scenes. And not a flake of snow around. Only rain. At least I don't have to shovel it anymore!