This entry was originally posted on Sunday, December 16, 2012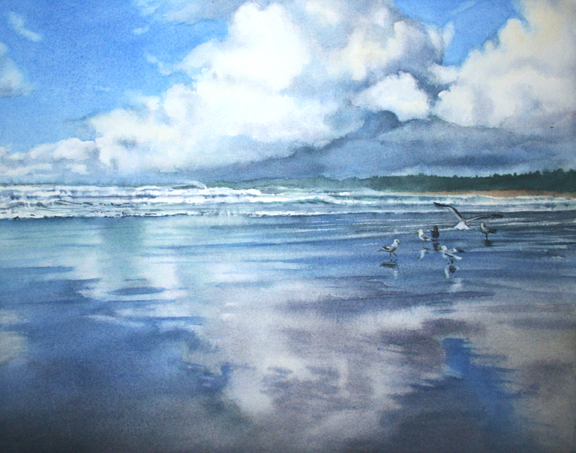 Reflection
Varnished Watercolor
11×14″
Recently I have been varnishing my watercolors so I don't need to frame them under glass.
Since I have started varnishing, I have had several people ask if these paintings are allowed in competitions.
My answer is that it depends on the competition.
Watercolor and watermedia competitions usually request that paintings be on paper and framed under glass.
So no, they would not be allowed, especially since they would not be framed under glass.
Some watercolor competitions request transparent watercolors only.
(Transparent Watercolor Society of America is one of them)
That means that the use of white, gouache, or acrylic is not allowed.
There are some other specific requirements that are usually included in the competition rules.
Other watercolor competitions are also watermedia competitions.
Watercolor, egg tempera, gouache, and acrylic are all allowed as long as they are on paper and framed under glass.
You can also mix watercolor and acrylic into one painting.
Then there are competitions that cover all forms of painting.
A varnished watercolor will be accepted in these competitions.
You can call it either a varnished watercolor or mixed media (since you have added another medium to varnish the painting.)
Most mediums are still porous until they are varnished.
Varnishing a watercolor would be similar to varnishing an oil, an acrylic, or an egg tempera.