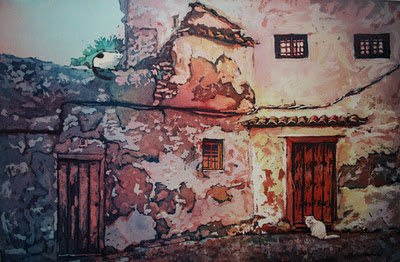 Spanish Courtyard
Poured watercolor
14×20″
Original available through my Etsy shop by clicking
here
.
Prints are available at Fine Art America by clicking
here
.
Last night I did a demonstration for the North Shore Artists' Guild in West Vancouver. It was the largest group I have ever demonstrated for. I even had to wear a microphone headset thing and I was on the big screen. Or rather, my painting was.
They seemed to be a great group of interested artists with a lot of support. Glad to see that.
It was requested that I show how to do a pour. Always fun.
Since each layer takes so long to do and dry and I only had an hour to do it in, I had 3 paintings prepared. The above painting I prepared for the last pour then I had the big reveal. Unfortuantely I didn't have time to finish it off with some minor adjustments last night so I did so this morning. I punch up a bit of color and clean up some lines.
I will be doing a pouring workshop through the NSAG on January 28-29, 2012.