This entry was originally posted on Wednesday, October 10, 2012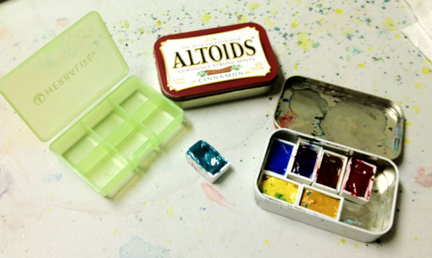 I have a couple of travel palettes.
My smallest one is made from an altoid box.
I love it because I can carry it in my purse and just about anywhere.
I even carried it on the airplane in my backpack so I can paint on my long journey over to Spain.
I created this palette by first finding some of those small empty pans.
Next, I filled them with the colors that I like to use and letting them dry out just a bit.
Then I stuck them to the bottom of the box with that blue tacky stuff.
The lid can be used as an area to mix your colors.
Now I have my palette.
A small pill box would also work well.