Day 4:
We said goodbye to Casablanca and headed to Marrakech. There was a marathon that morning that blocked the major thoroughfares, so the drive was a little more adventurous as we passed many markets and street vendors. This was where we witnessed the most poverty while on the trip and there seemed to be garbage everywhere.
While on the road to Marrakech, we stopped at a rest area that not only had bathrooms, but places to pray. It was a true rest area, not just for the body but the soul, if needs be.
We had another wonderful lunch across from the Mosque in Marrakech. I had a delicious salad and a refreshing mocktail mojito.  Following lunch, we checked into our guest hotels, or riads. All my students stayed at the Riad Heklek with some of the prettiest rooms. I stayed across the alley at the Riad Jonan.
After checking into our rooms, we were taken on a tour of Marrakech by horse drawn carriage. What a treat that was! I think it must be one of the best ways to experience this unique place. The whole city seemed to be out that night, driving or walking the promenade. We got to feel the buzz of the various forms of transportation, including whole families on mopeds, motorcyclists with bags of groceries, and makeshift carts that were so full, you thought they would topple over. It was a glorious evening as the sun set over the city and all its wonder.
After our carriage ride, we had another geometry lesson and went to the Riad Jonan for a wonderful meal of lamb tagine. (If you happen to follow my Instagram, you can see the manager of the Riad Jonan give me a tour on one of my reels.)
Day 5.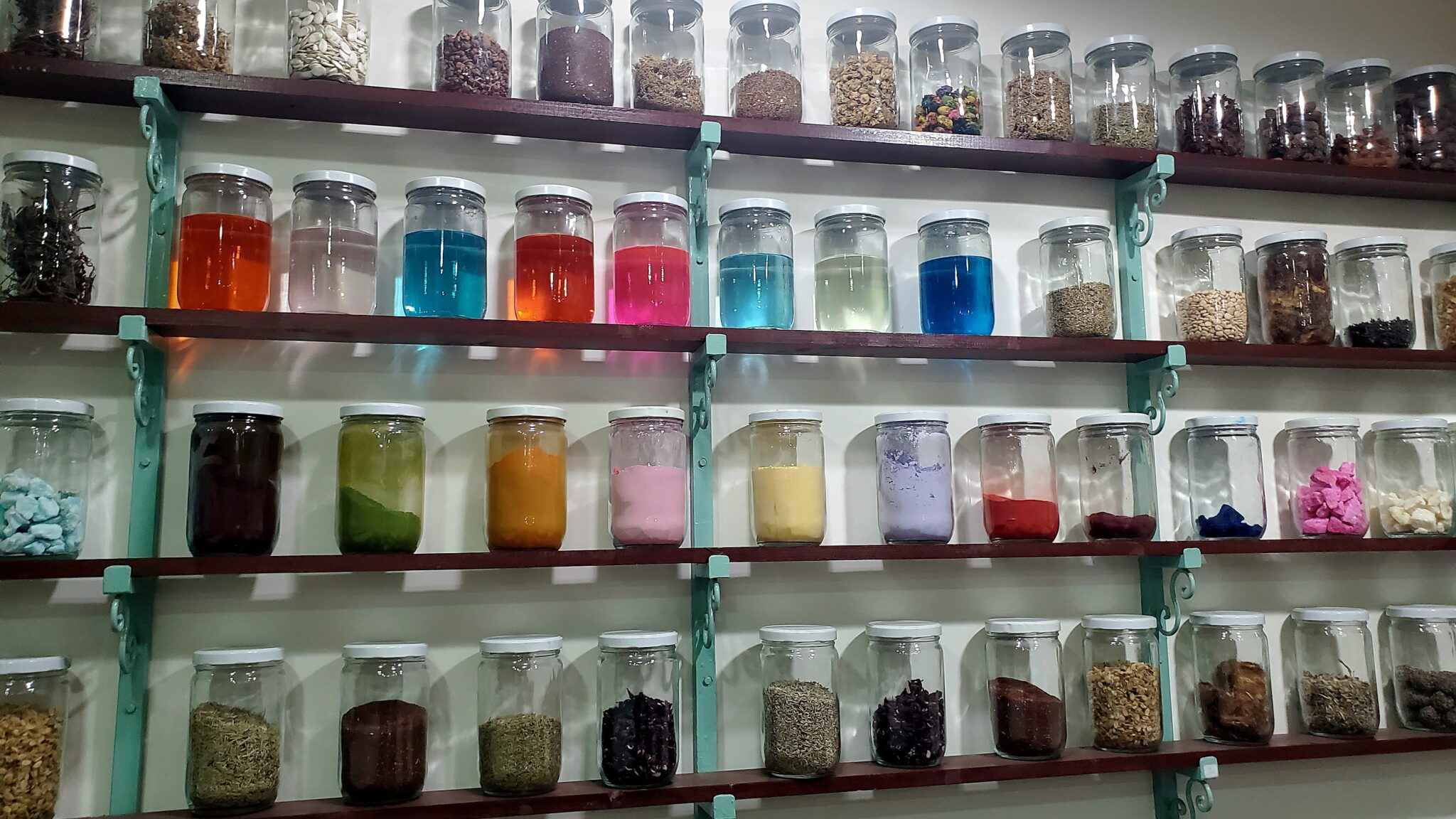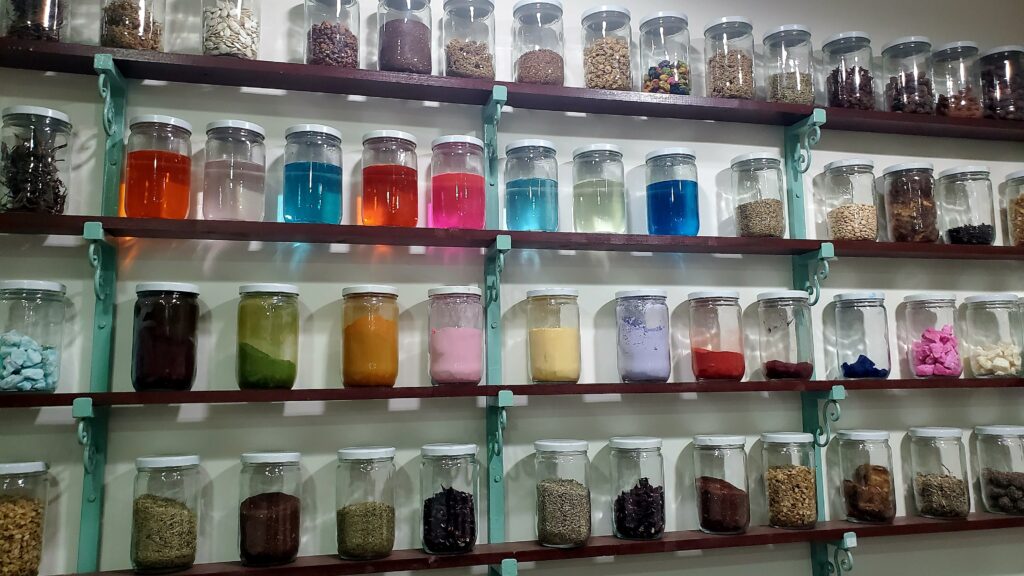 Today was a full day! It started early with going to the Herbalist (Herboristerie) where we stocked up on spices and a few essential oils. This was at the request of one of my students and I am so glad she did request it! I had hoped we would be able to get some of the fresh spices that Morocco is known for while on the trip.
We then went to the Jardin Majorelle/ Yves St. Laurent Mansion. It was very crowded, and it appeared that parts of the garden were blocked over, making the crowds feel even more dense. Here I tried to demonstrate how to paint a quick scene, while standing, with a small palette and water brush. I must say, it was not my best piece. I also find it challenging to paint under pressure like that.
After painting in the garden, we left Marrakech behind and started our journey through the Atlas Mountains. We spent several hours traveling through the mountains, and believe me when I say, my camera did not stop!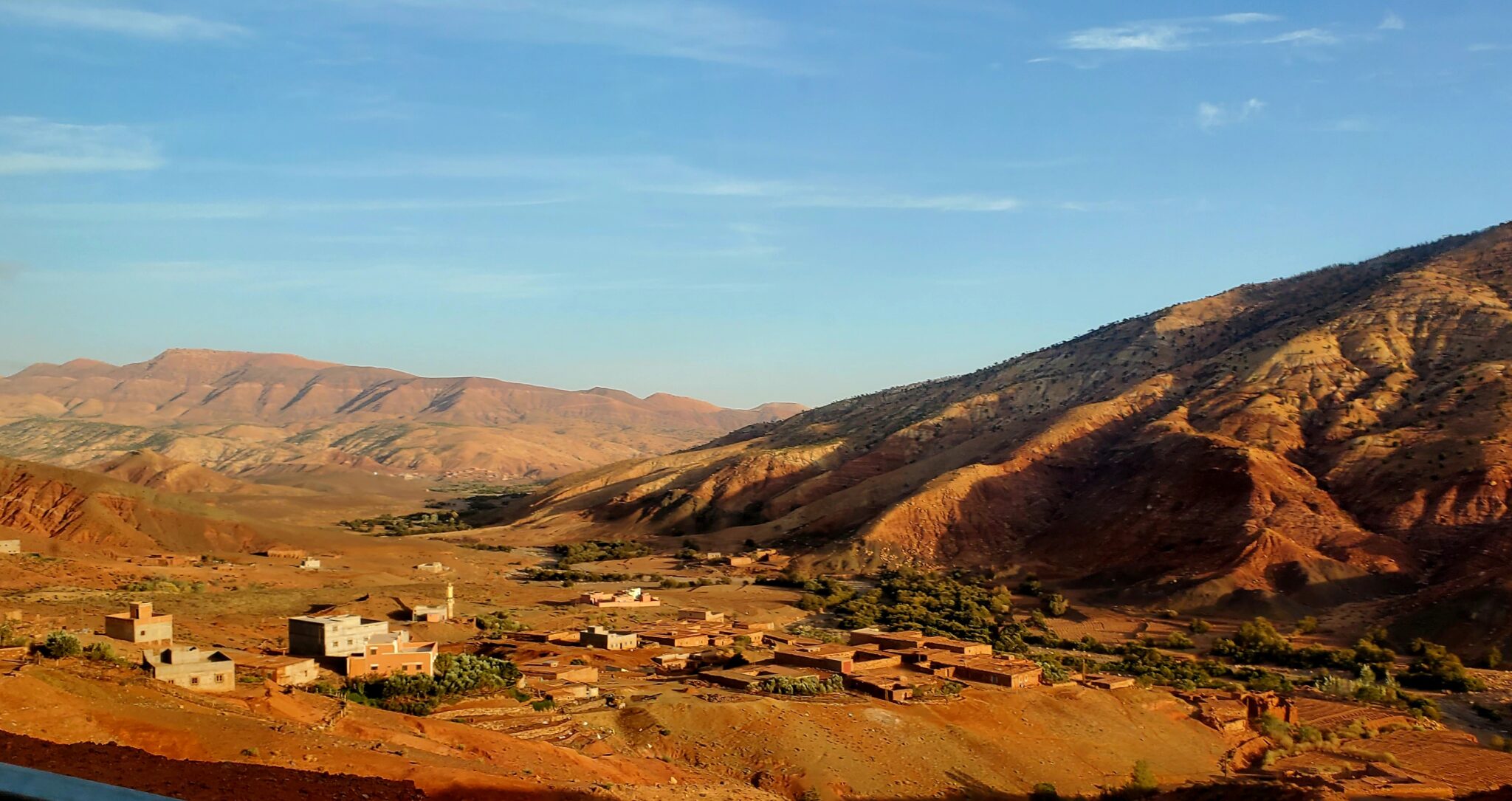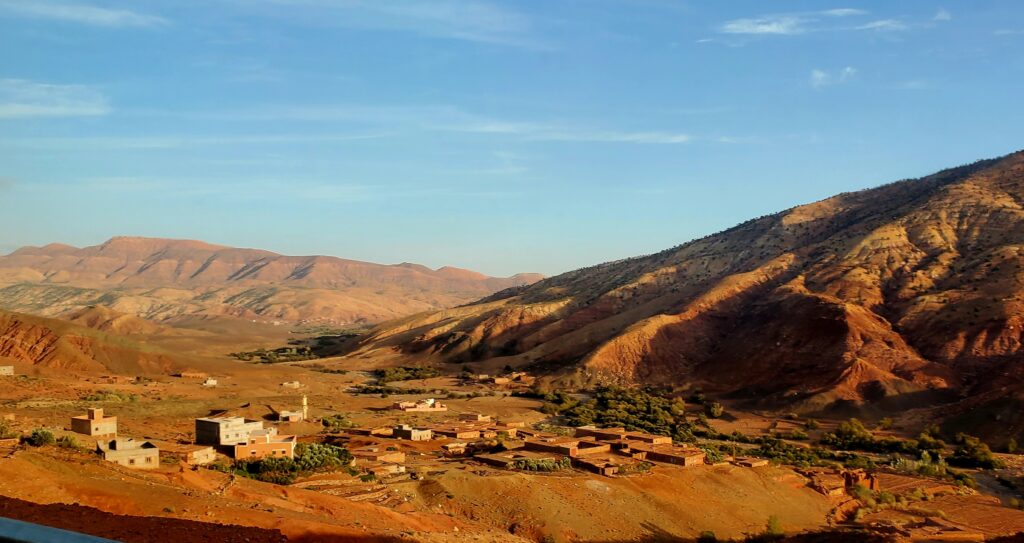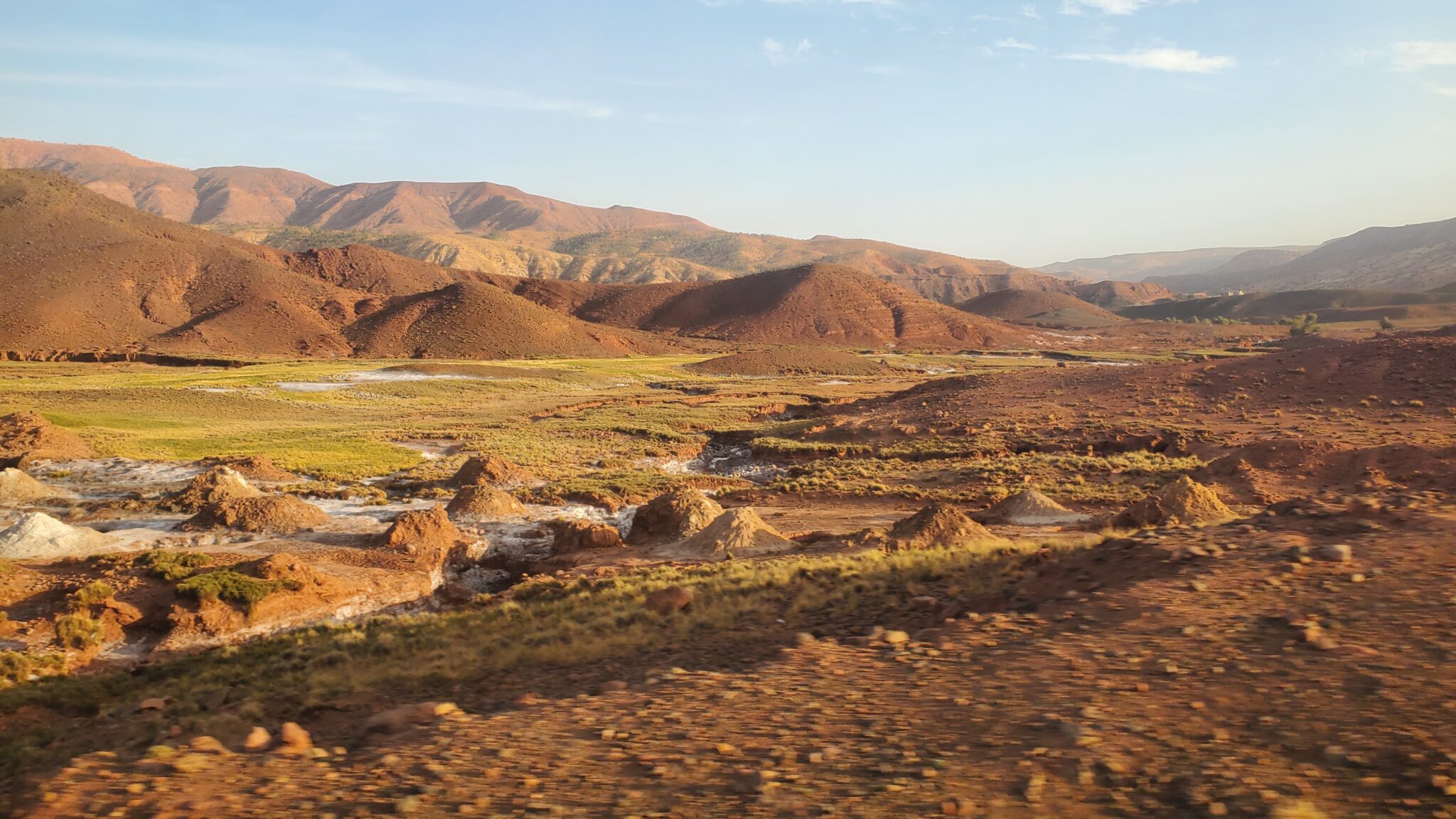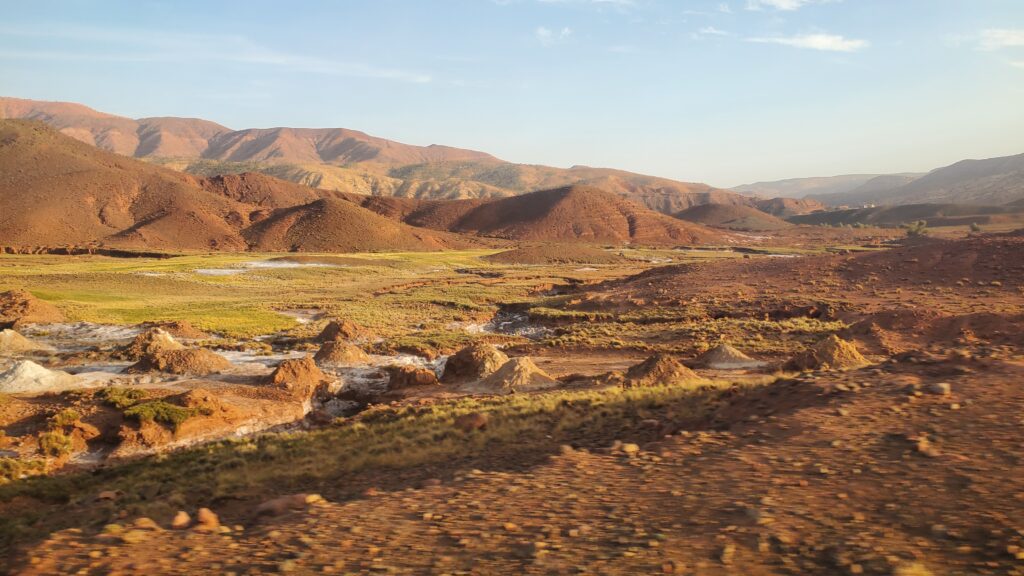 Our final destination for the day was Ait- Ben-Haddou, where we stayed in a riad with a beautiful pool and a view of the Ksar– a UNESCO site where Lawrence of Arabia and many other movies were filmed.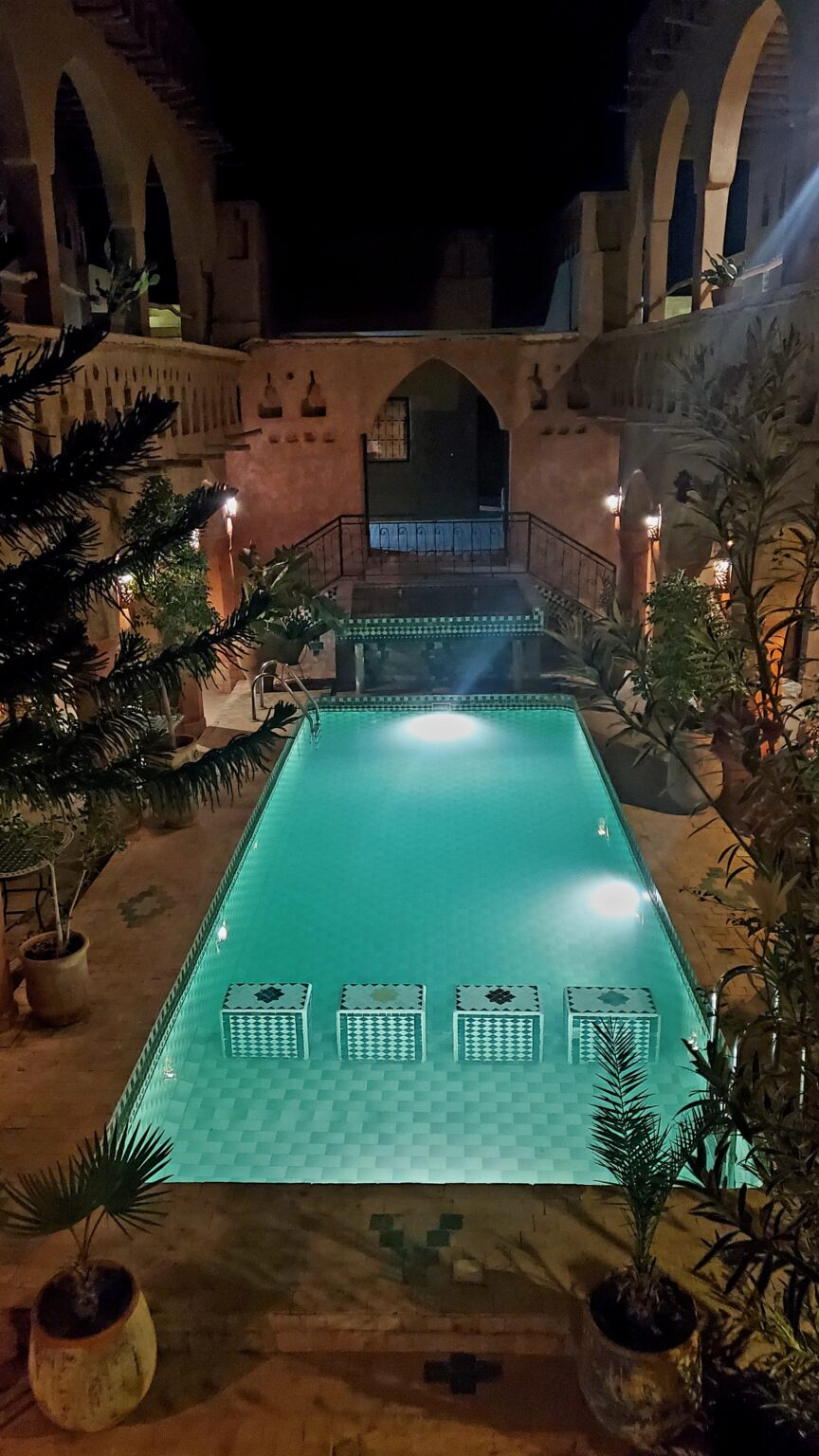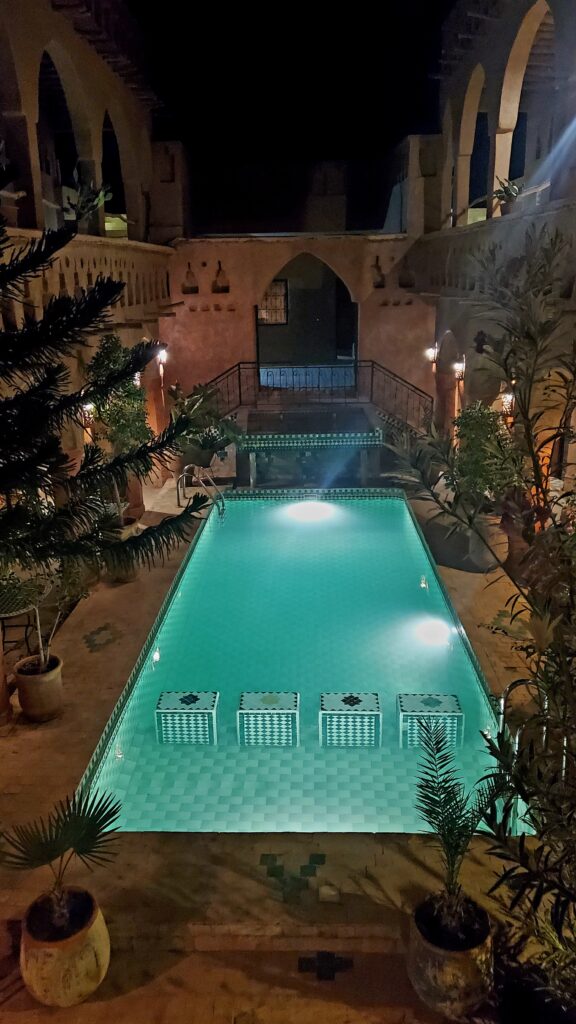 Day 5
I chose to skip breakfast today and instead painted the sun rise over Ait-Ben-Haddou and the Ksar As much as I intended to do more plein air painting before this journey, I did do as much as I had planned. So this morning I spent trying to get my plein air muscles working again. It was good exercise.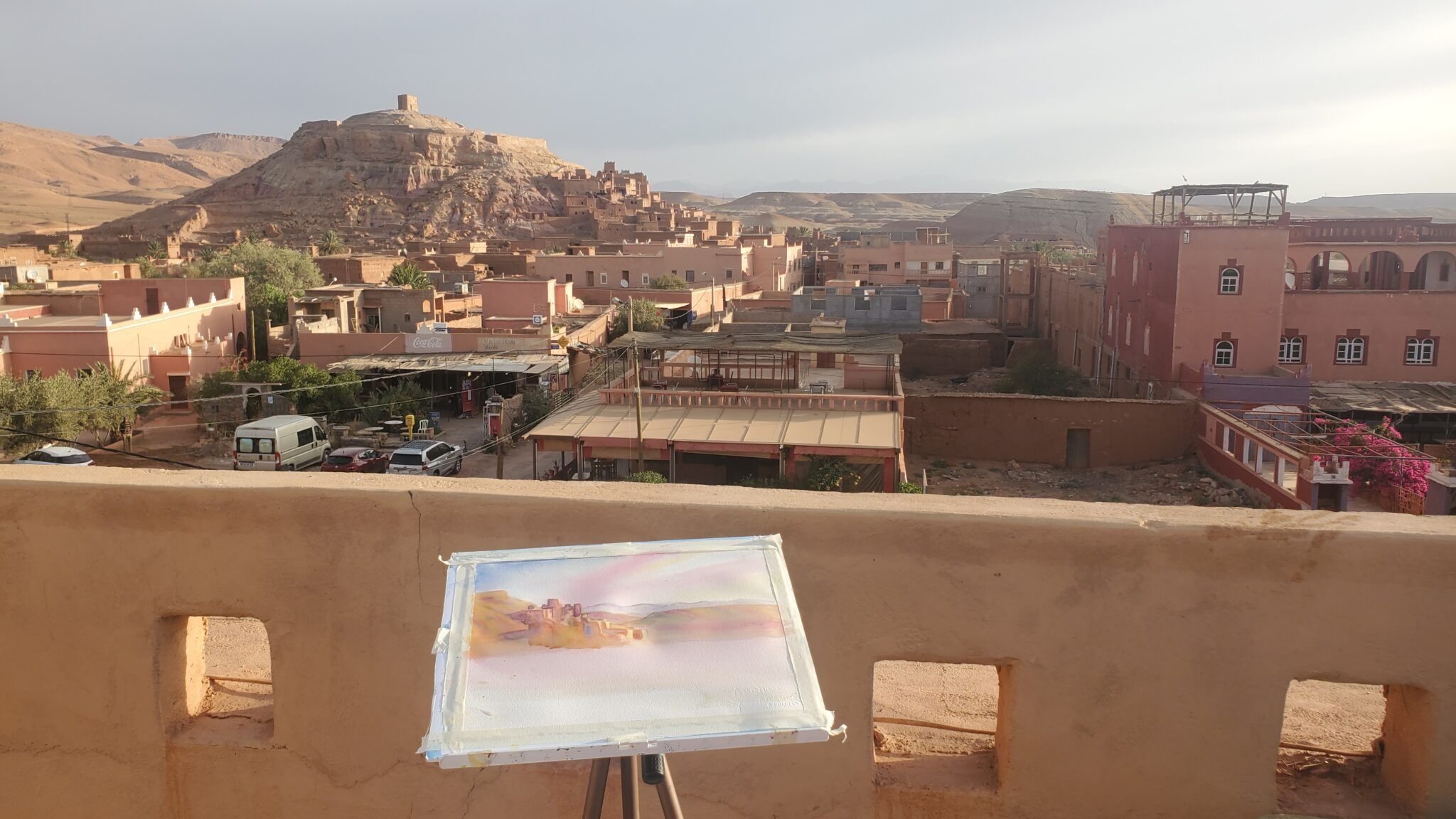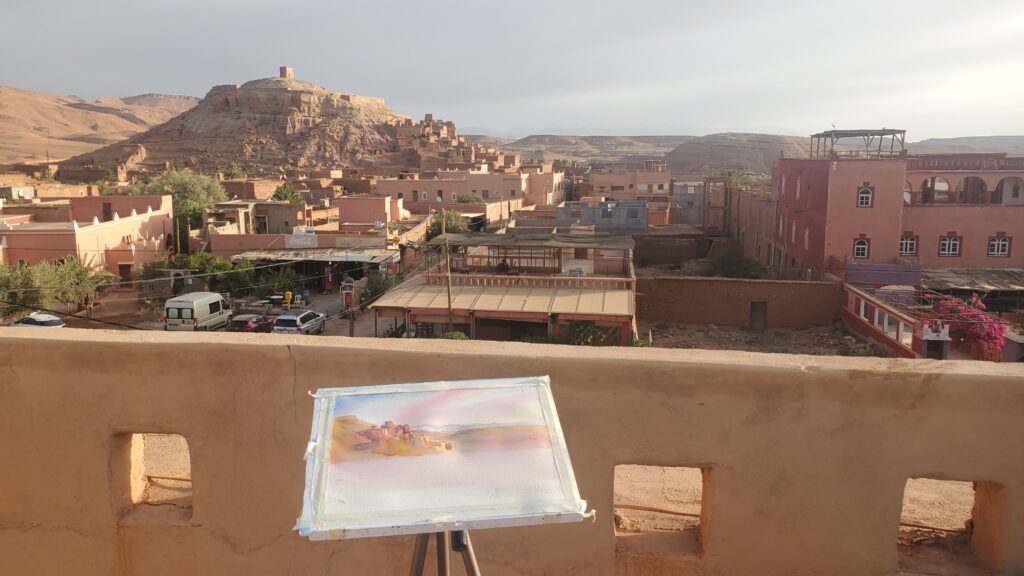 After breakfast, we hiked the Ksar, getting our fill of painting possibilities. Just outside the Kasbah, we watched the woman that made our bread for our breakfast, continue to make bread in a traditional Moroccan oven and a man that painted scenes of the Kasbah with tea and sugar, that when heated over a flame, the scene was revealed.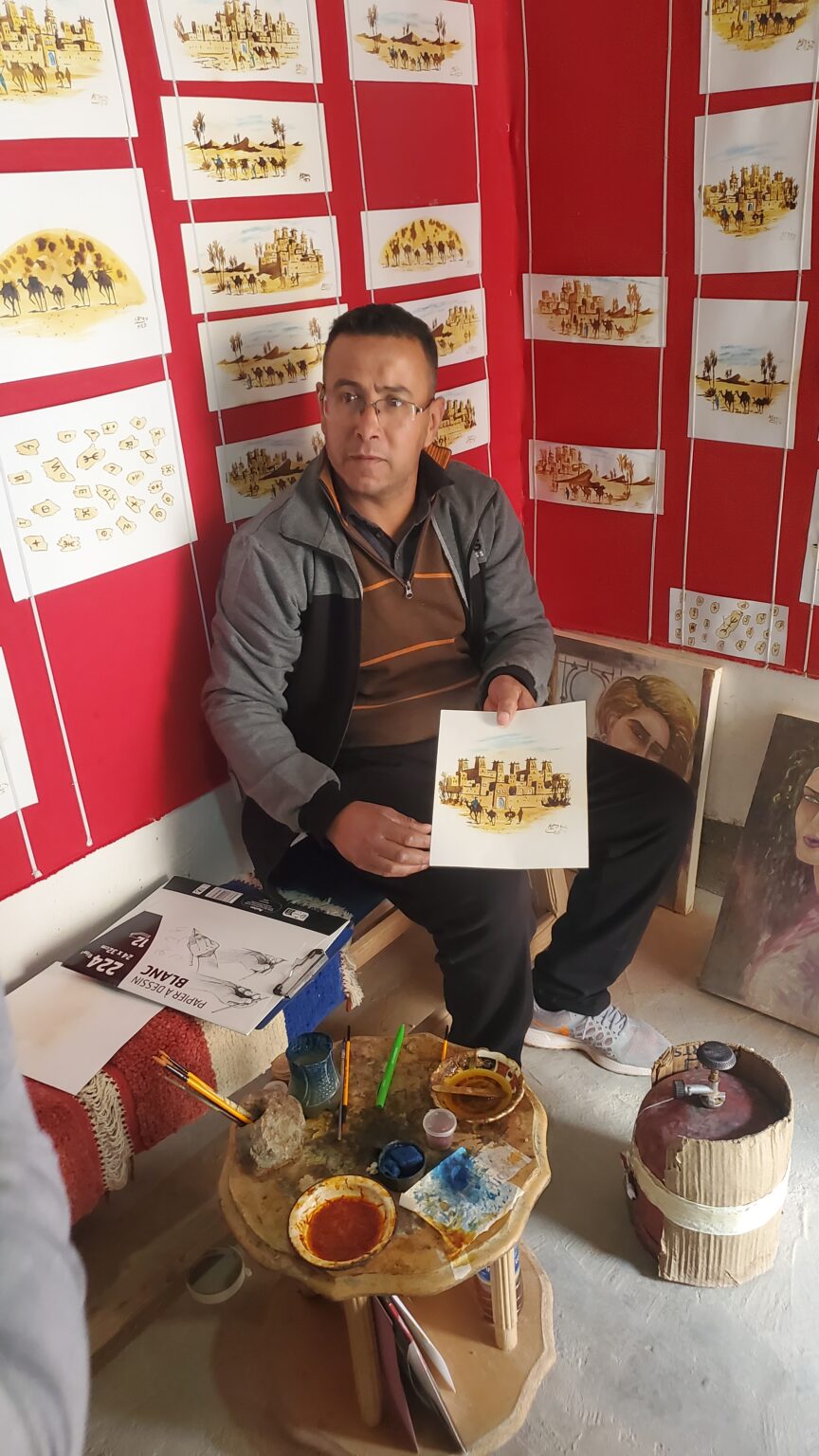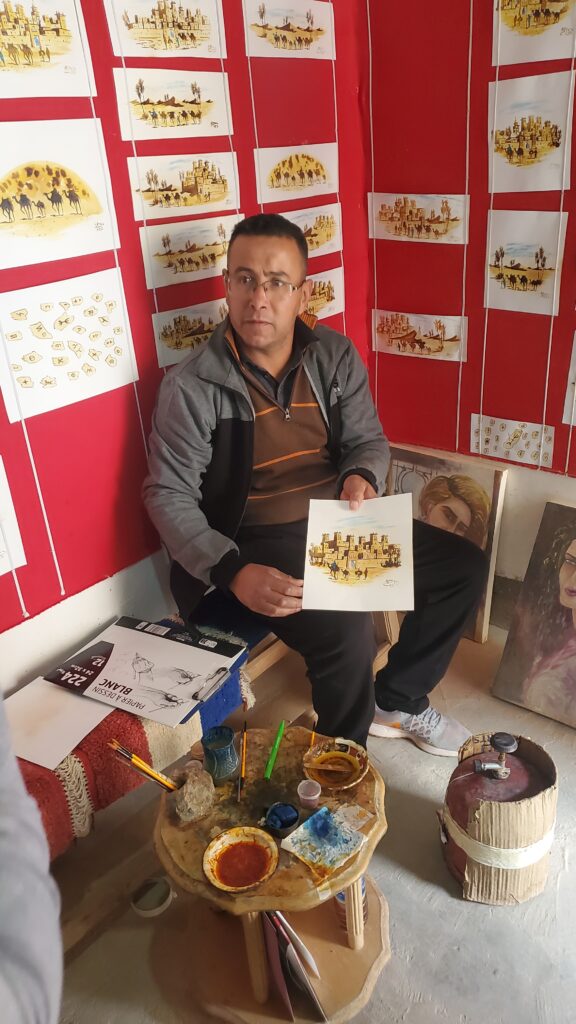 Following our tour of the Ksar, we painted on the balcony of a restaurant, ate lunch, then painted some more.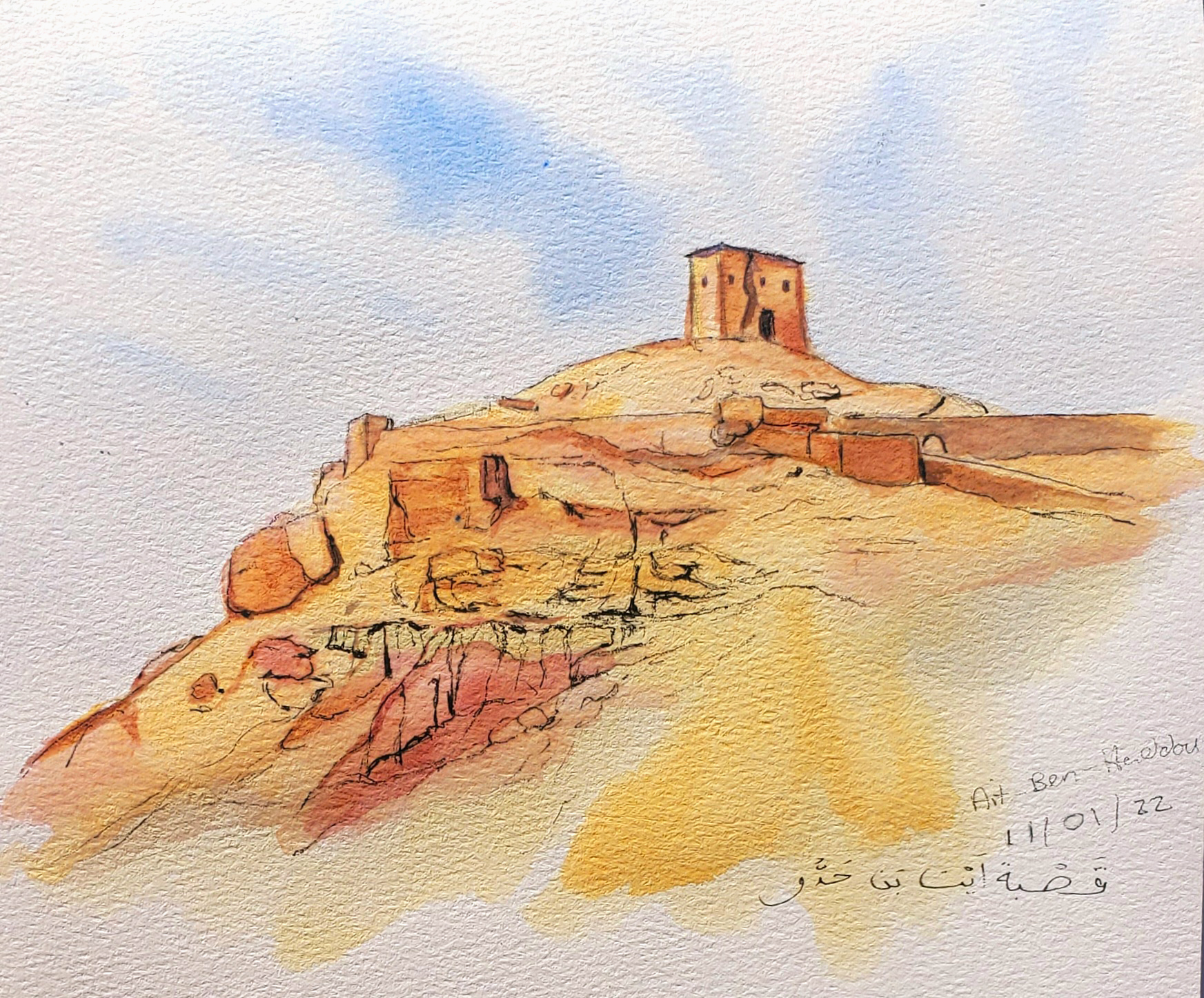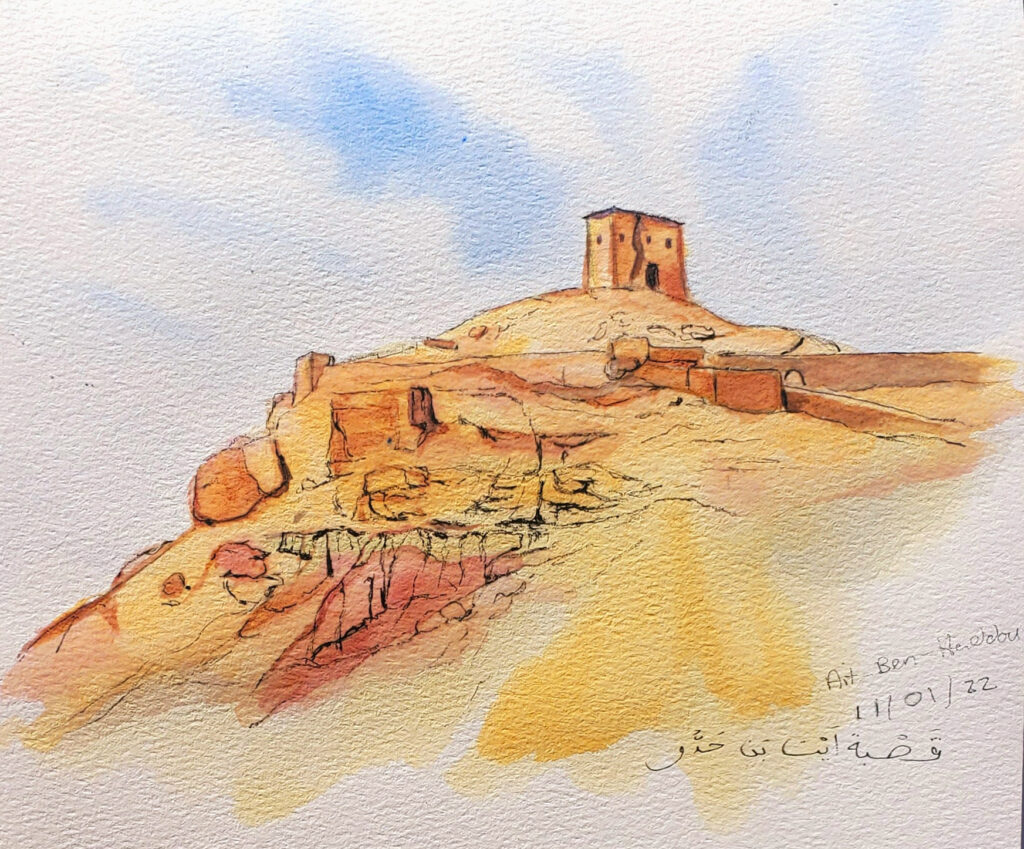 It was an ideal day but did not end there. We then visited the tomb of The Mummy at Ouarzawood, also known as Atlas Studios. The day ended with trying to find the perfect flying carpet and learning the history and symbolism of the carpets.