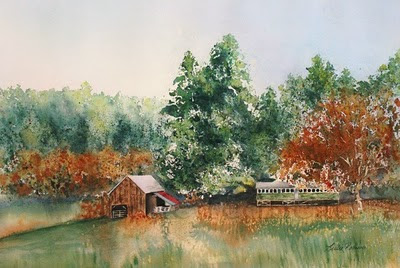 Island Farm
watercolor
14×20″
$400 USD
I have been away teaching a workshop at
Painter's Lodge
in Campbell River, BC for the past few days. I am asked to teach there every spring and fall and enjoy it each time. The weather was sunny, warm, and beautiful. The Lodge is right on the water and we watched the fishermen leave each morning and come in again each afternoon with their catch. We even saw orcas (killer whales) this time and watched them play for awhile. It is only the second time that I have seen them but I imagine that it never gets old.
The above painting is the painting that I demonstrated. There were 21 people in the class and each one did an amazing job. It is exciting to watch someone new to watercolor discover how wonderful it is.
Shipping is free to Canada and the U.S.