Dreaming of Morocco
This post is way past due. I have been home from my Morocco trip for 3 weeks now and with a commission to complete, a move, and American Thanksgiving, it has been difficult to concentrate on getting my blog done. There was so much to my trip and so many photos, that I will need to write this in parts.
Over a year ago, Morocco Eco-way, also known as Ted Travels, contacted me about taking a group of students with me to Morocco. You see, I have wanted to go to Morocco every since I was young and went to the Moroccan Bazaar at Disney World in Florida. I know it isn't the same but they tried to recreate the sights, smells, and sounds. I was won over by the colors, of course, and have had a desire to have an authentic Moroccan experience.  Years later, I discovered Moroccan food at a small family owned restaurant in Salt Lake City. It was delicious, and again, I felt that desire. However, life happens, as you know, and other priorities take place and the thought of Morocco was lost in everyday routine. It did resurface each time I taught in Southern Spain. It was just a short ferry ride away after all. But my children were small and I wanted to get back to them as soon as each workshop had ended. They were more of a priority.
When Yacin of Morocco Eco-way did contact me, I thought it had to be too good to be true. I didn't even answer the email for a few days. I just let it sit there, as I imagined how I was being scammed.  I mean, it seemed legit but I do have trust issues, and  if it was real, what was the likelihood that out of all the amazing artists, they asked me and why?  After a few days, I decided, that I better find out if it was true. I emailed Yacin back. He gave me more information, along with the names of artists that had toured with them in the past. I found out that the company had worked mostly with European artists and were trying to branch out to North American artists. I was one of the first. I then spoke with our guide, Mohamed several times and decided to take a chance.
And I am soooo glad that I did! I cannot even begin to tell you how amazing the experience was. The tour company, our guide, and our driver were thoughtful, attentive, and knew exactly what we needed. They took us on the most incredible adventure and I am not planning on returning. My students were previous students and friends but it was wonderful to reunite with them (especially after that whole Covid nightmare) and to have them meet each other. I now feel like we are family. In fact, I think several are considering returning with me.
But now on to the adventure.
DAY 1 – Travel to Casablanca, Morocco
Wednesday-Thursday, Oct 26-27
I flew out of Seattle on the afternoon of Wednesday, Oct 26. At the same time, 3 of my students flew out of Vancouver, BC.  We were to meet up in Paris and fly to Casablanca together. The other students were arriving the next day (Friday). The idea was for me to get settled and recover from jetlag before the course started. The students joining me that early was a bonus. It also happened to be the best flight (one layover) with the best deal going that week.
After hours of waiting at the airport, flying, waiting some more at the airport, flying again, we made it. After making it through customs, Mohamed met us at the airport with a bus to transport us to the hotel. It was exciting to meet Mohamed. After a year of texting and speaking on the phone, we finally met! Since Mohamed was raised in Saudi Arabia, he is fluent in English and this was a huge help throughout the trip. He was only lacking in a few idioms and terms, which he has become very familiar with since (for example, herding cats, which is almost as difficult as herding artists).
By the time we got settled into the hotel, it was almost dinner. We ate the buffet at the hotel and were served the traditional Moroccan mint tea. Our waiter showed us how they serve the tea. According to tradition, the higher the tea is served, the more time the server has for his/her friends.
Day 2 – Casablanca
Day 2 arrived with the prospect of exploring Casablanca.  My student (and best friend), Jen is a soap maker. She has YouTube videos on how to create soap. She was on a quest to find some toothpaste and soap to try out for her videos. Another student, Gillian, had already been out that morning and had found an art store around the corner from the hotel. We first stopped into a grocery store for Jen. There she discovered a young woman that spoke fluent English. She helped Jen fill her basket with all sorts of goodies. One of the employees even took off on his motor bike to go find Jen some Moroccan black soap without being asked. It was a great experience as they were so very helpful and friendly.  After the grocery store, we made our way to the art store. It was nothing special but fun to see what they had. We ended up making our way back to the hotel to meet up with 3 more students that had arrived that morning.
Mohamed had found a restaurant with authentic Moroccan couscous for lunch. My first impression of Casablanca is that it is just another big, busy city as we tried to cross streets and find our way safely down the road. Lunch was wonderful, of course. Our guide, new driver, and the last student joined us as we were finishing up.
After lunch we all had a little rest as we were jetlagged. We then met near the dining area to discuss supplies and some plans for the following day. I presented each of my students with a gift of Viviva colorsheets to use while traveling.
Day 3 – Hassan II Mosque in Casablanca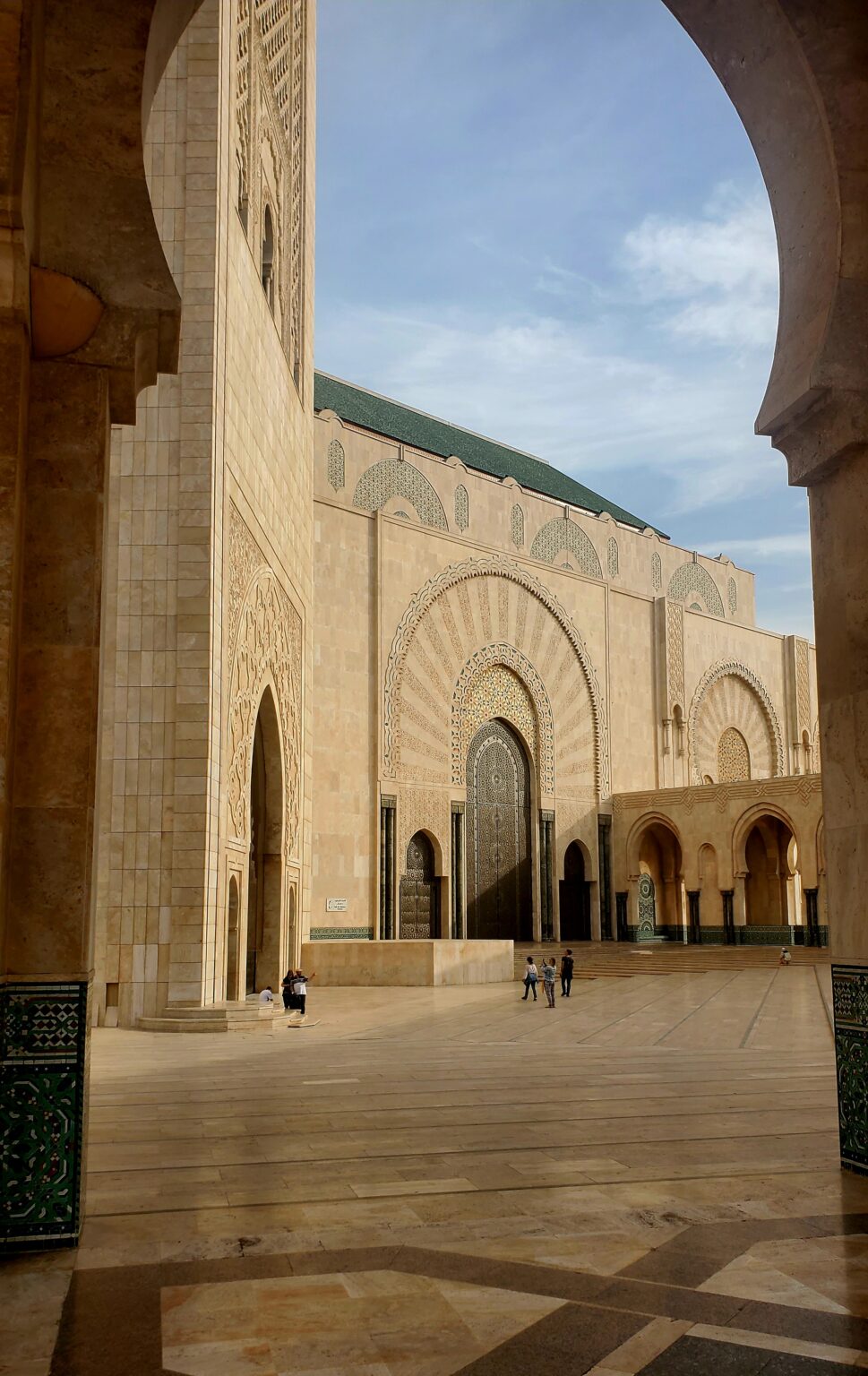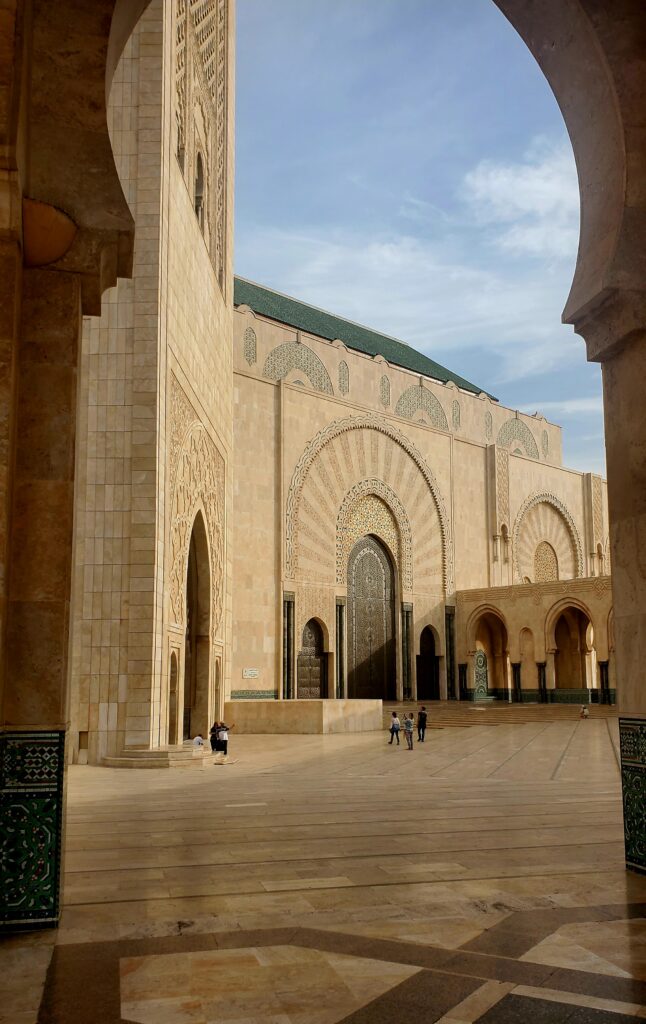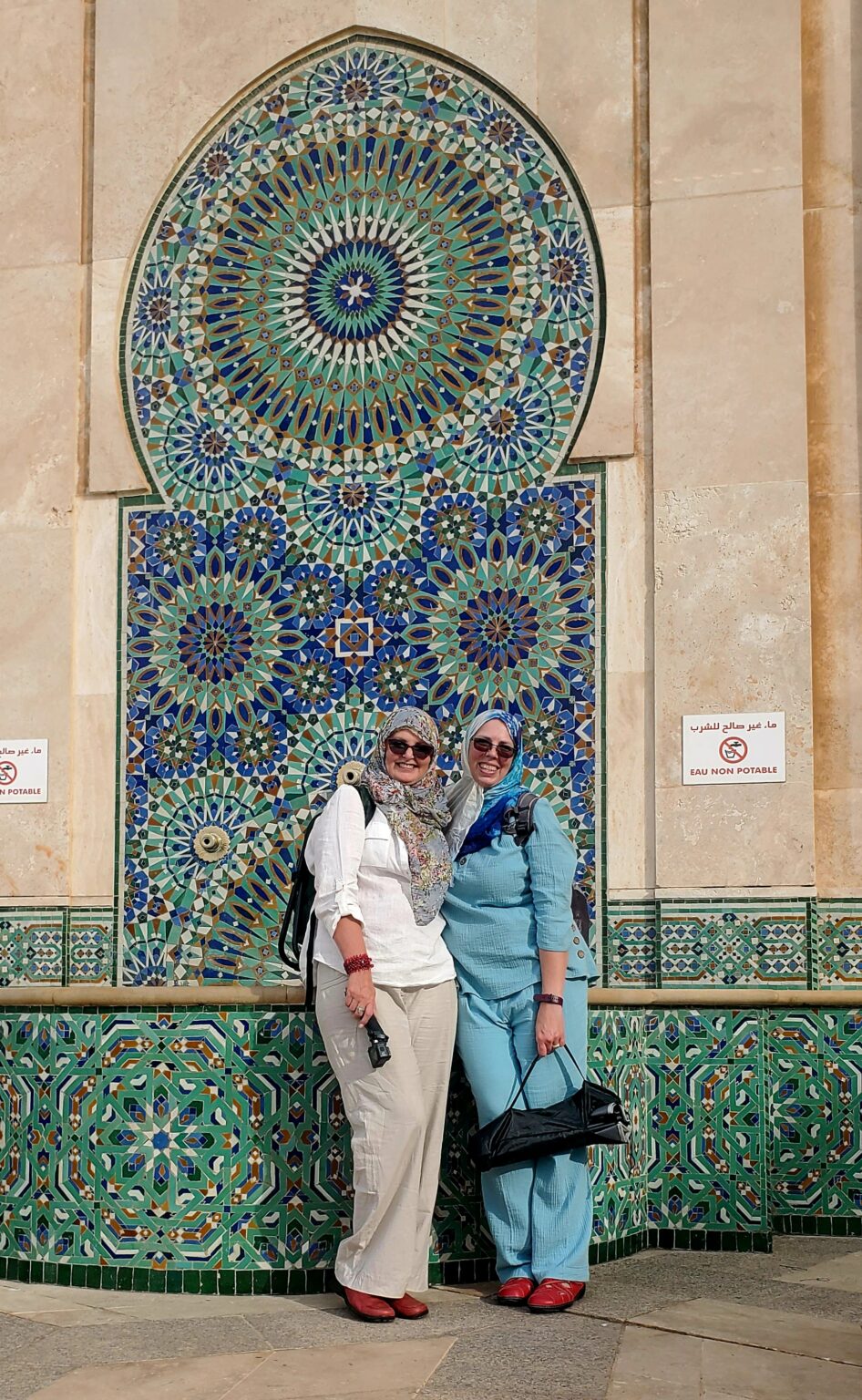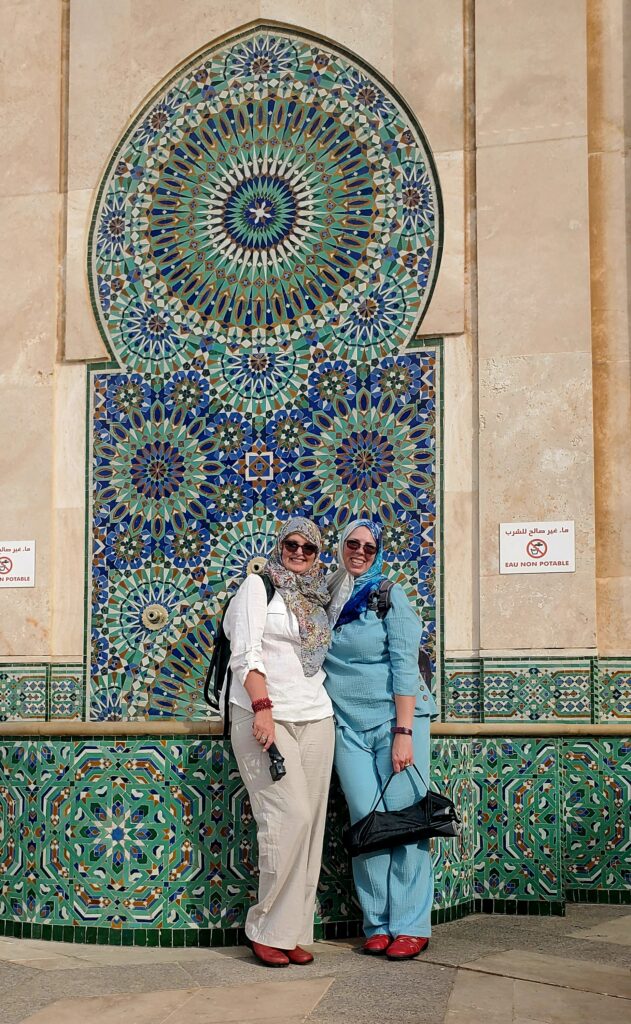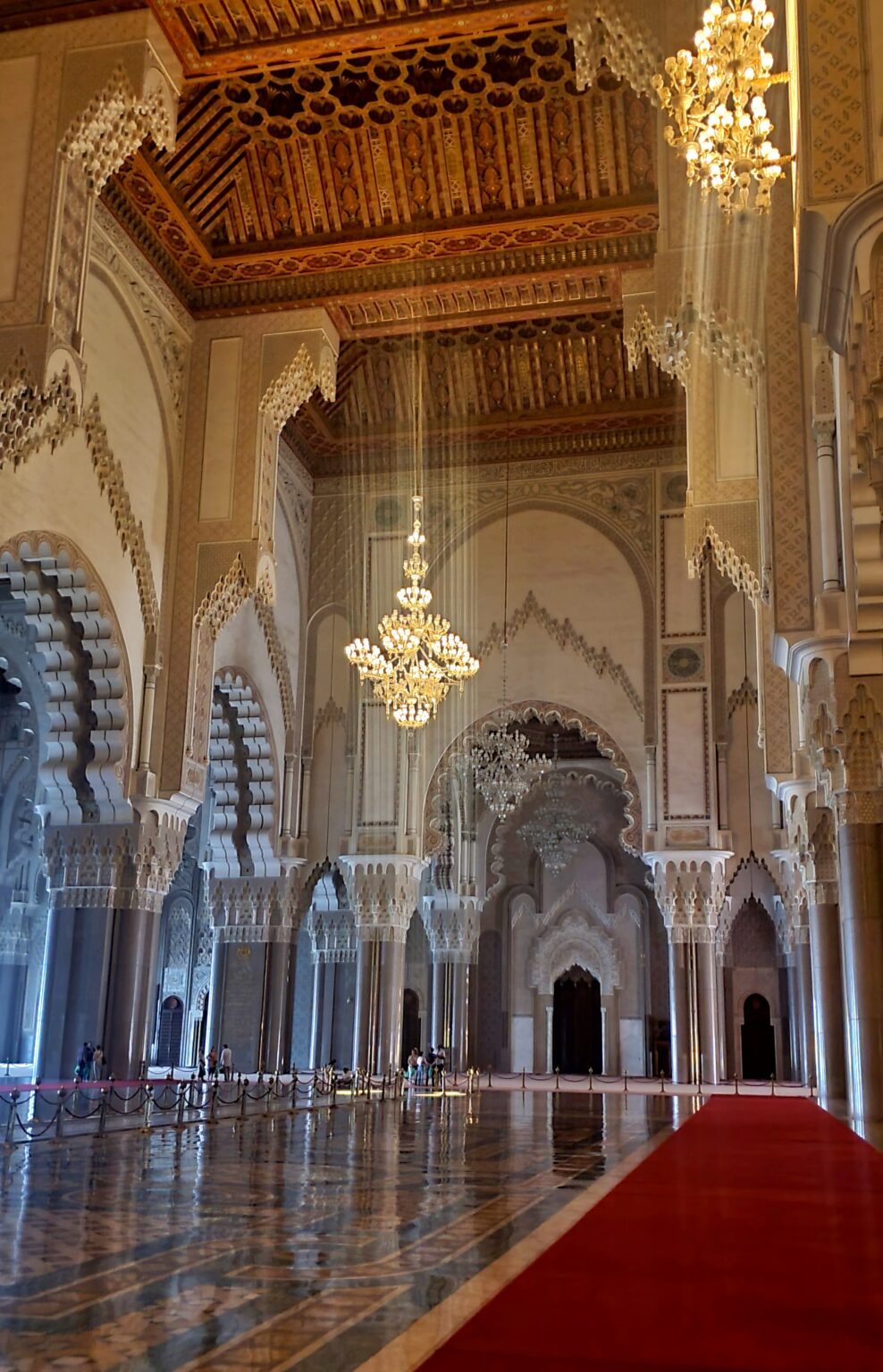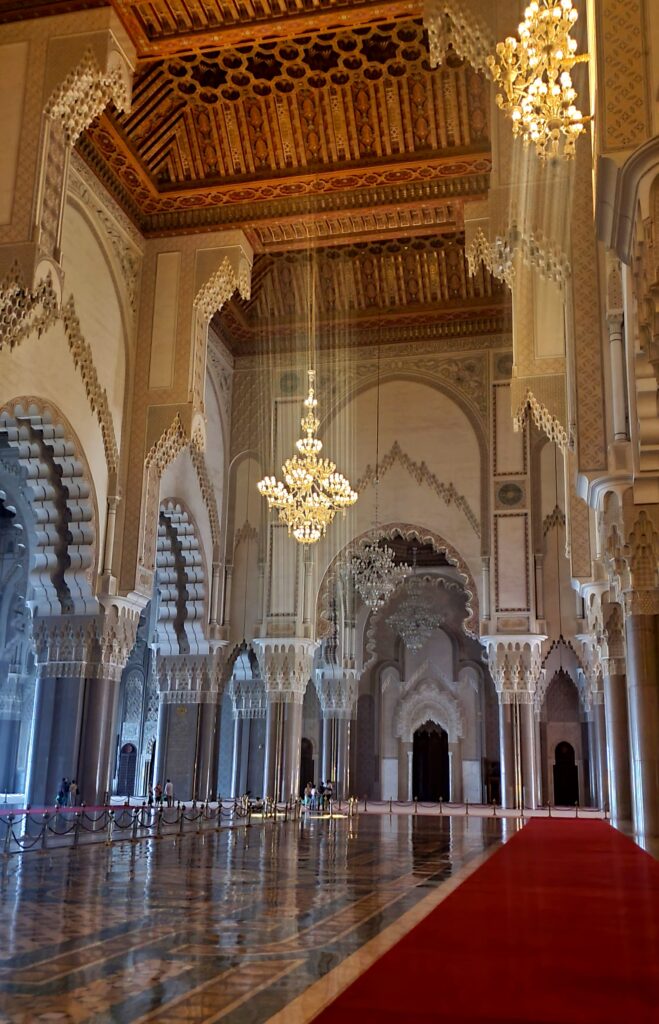 Today was the official start of our painting tour. After an excellent breakfast with freshly squeezed orange juice, Mohamed met us with our driver (also named Mohamed but we called him Momo) and his sister, Hannah. Hannah came with us to help us with our head scarves as we were heading to the largest mosque in Africa and the third largest in the world.  After a tour of the mosque, we sat outside and did some sketches. We discussed the importance of thumbnail sketches, notan, perspective and how to get the correct angle.
Sketching was followed by lunch on the beach and a walk where we saw the Atlantic Ocean from the other side.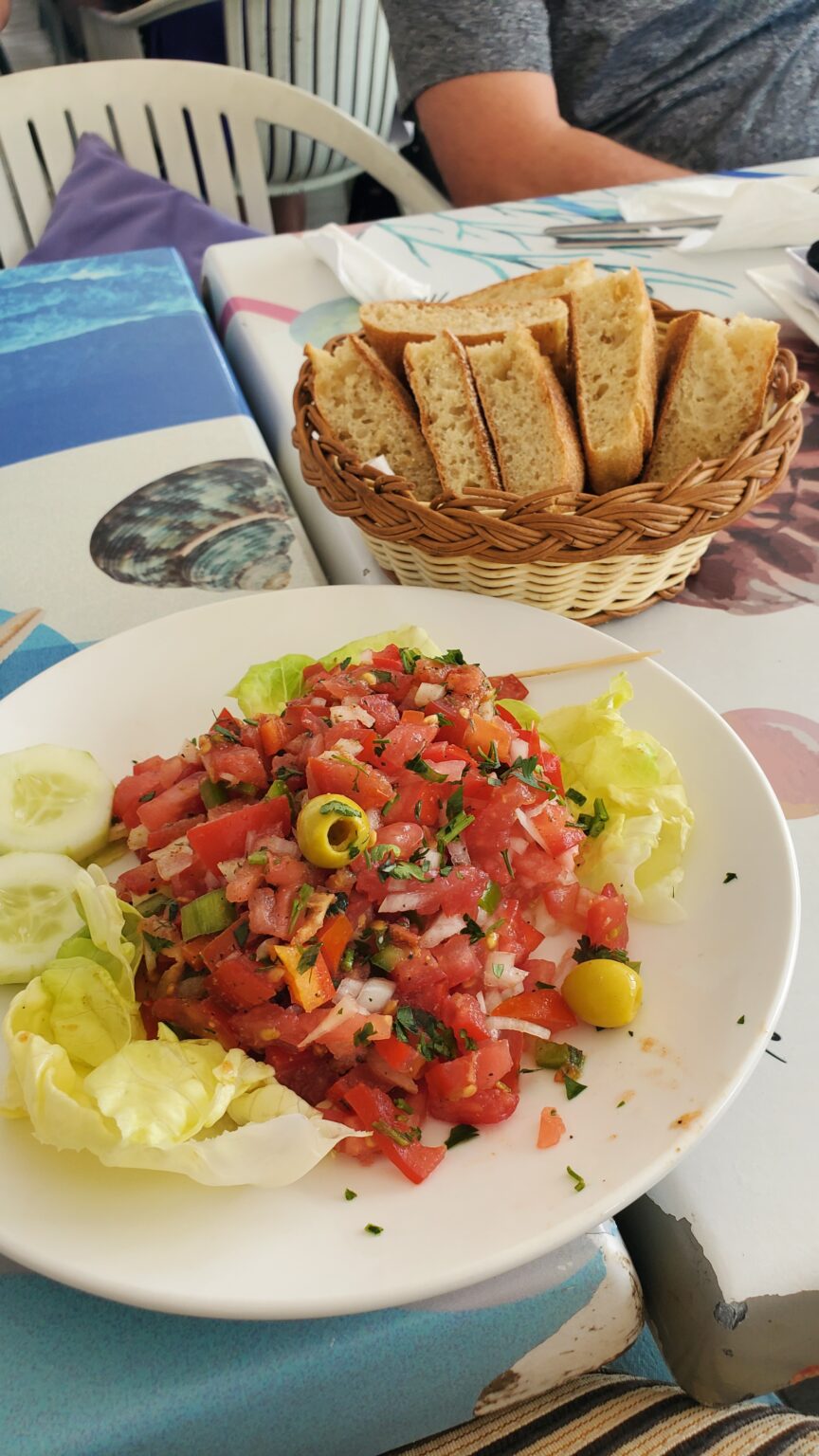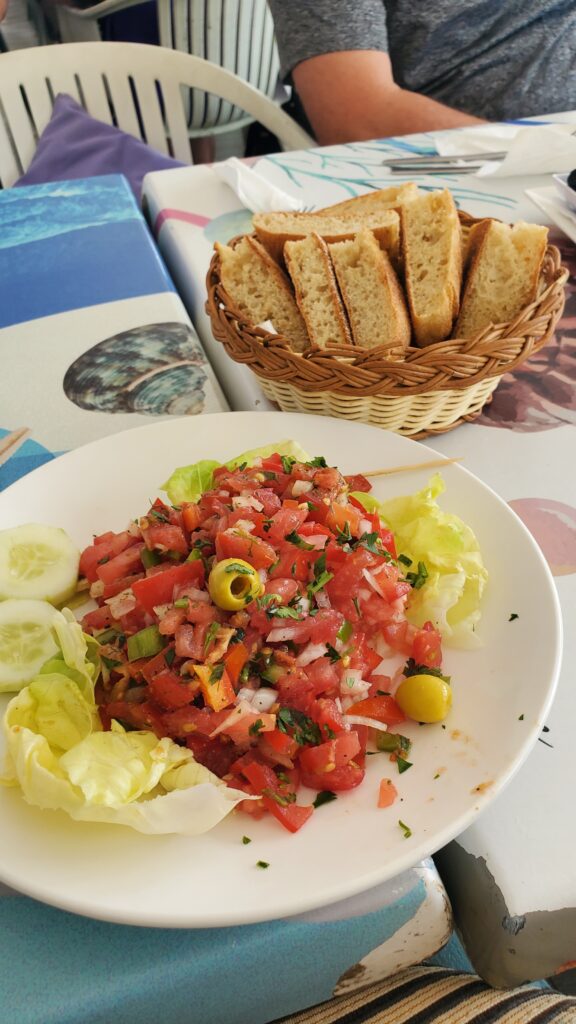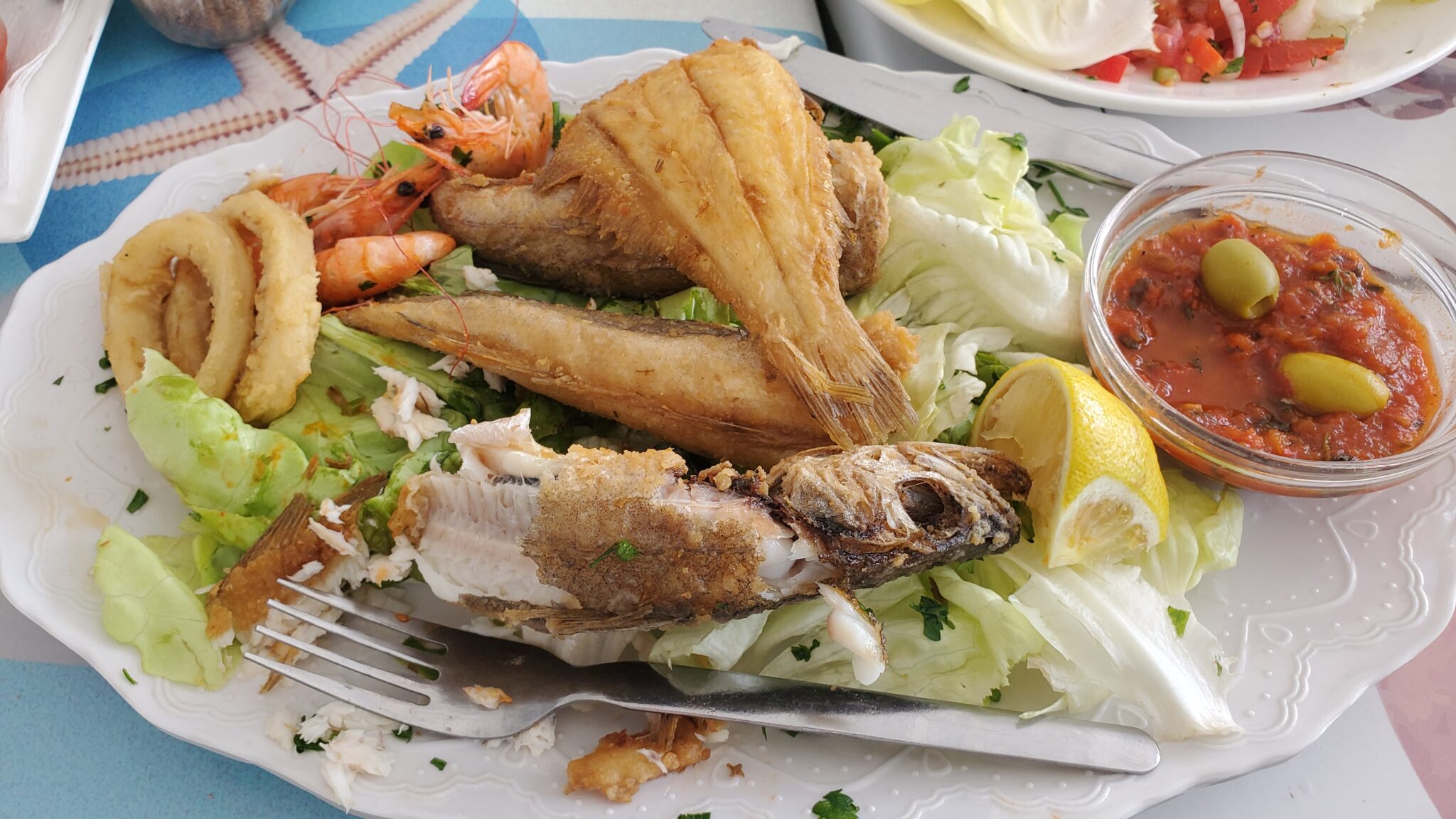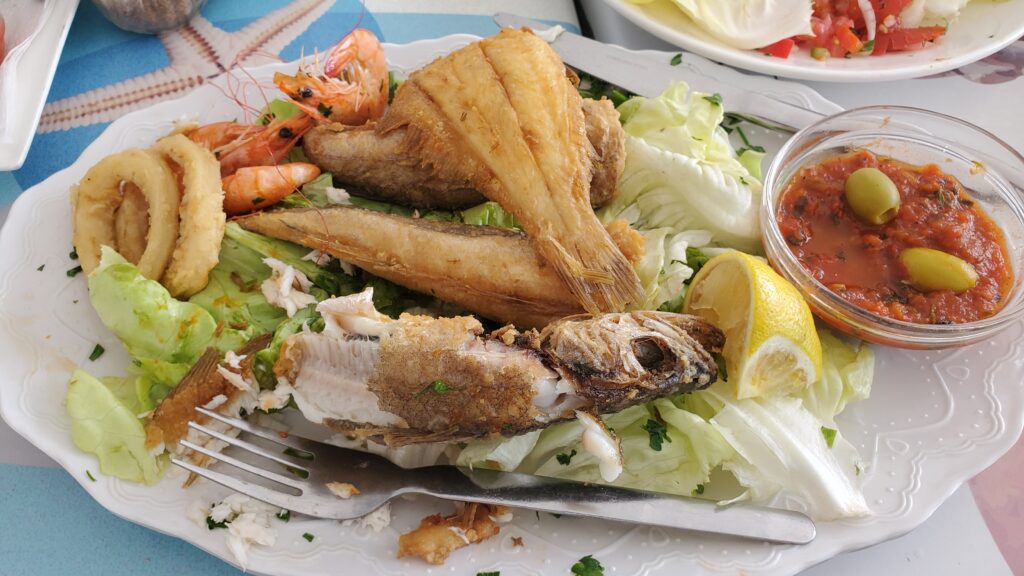 If you have seen my work in previous years, you will know that I have incorporated Islamic patterns into some of my paintings. I have always loved the geometric designs and was excited that I would get to see more while in Morocco. I spent weeks preparing for this by learning how to draw the rosettes that are so often seen in this country.
Following a short rest after lunch, we met on the rooftop terrace with our rulers and compasses to begin our first of many lessons 0n how to create a rosette.