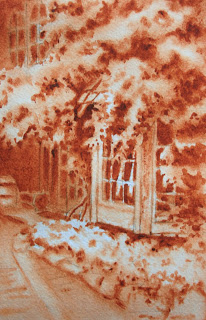 My Monday night class is Creating a Mood in Watercolor. One of the lessons I will be teaching is on how important value can be in a painting. A painting with similar values might indicate a rainy or misty day whereas one with high contrast gives a feeling of strong sunlight. Another important lesson is that a painting can be any color as long as the values are correct.
For my introductory class I will have my students paint from a black and white photo something with good contrast in burnt sienna. This is so they can understand values. I find that most beginner watercolorists either paint too wishy washy or too heavy as if it is an impasto painting. Getting a good feel for values also helps break some of those habits. The other objective is for them to learn how to paint wet in wet with watercolor. This helps create more of a romantic or nostalgic mood.
The above painting is what I painted to show as an example. It is The Old House restaurant (now called Tomato Tomato) in Courtenay, BC. It is the front window with ivy vines and flowers underneath.