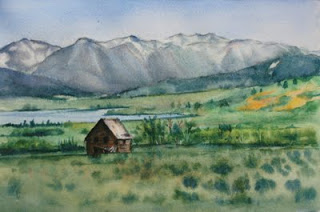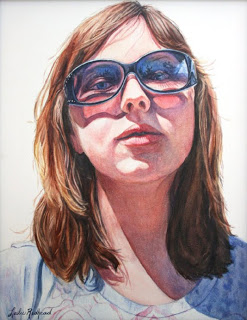 Had a fabulous weekend teaching a workshop on pouring watercolor through the Federation of Canadian Artists. All the paintings turned out well except mine! I just had to keep reminding myself that they got a chance to paint and I didn't. If I ever finish the piece I will post it.
On Monday I had a short demo on portraits with a private group. This group of artists have been meeting once a month for 10 years to paint. They sometimes ask an artist to come demonstrate and teach them something new. This month it was me that they asked. I did a portrait of a girl that I photographed at the Pioneer Park in Salt Lake City. Didn't get to finish it of course. Only had a couple of hours to paint. What was funny was that these women thought the photograph was from a magazine.
I started this small painting of Montana at my class on Monday night. Everyone was busy doing color studies and I am sure they were annoyed by my hovering. So I painted.
Today I finally went out to Goward House to see the FCA exhibit. I won an honorable mention for my painting Summer Shades. I guess I should post that as well. The show was fun to see. The same people that always win, won again. Not sure why. I would have chosen differently. Especially Mary Conely's piece. It was an oil of a clown painting the face of a child. It was well executed. Her work is definitely under appreciated.
I also found out that a friend of mine has been chosen to be on the cover of Splash 11. Congratulations to her for such an exciting achievement.