This entry was originally posted on Wednesday, February 29, 2012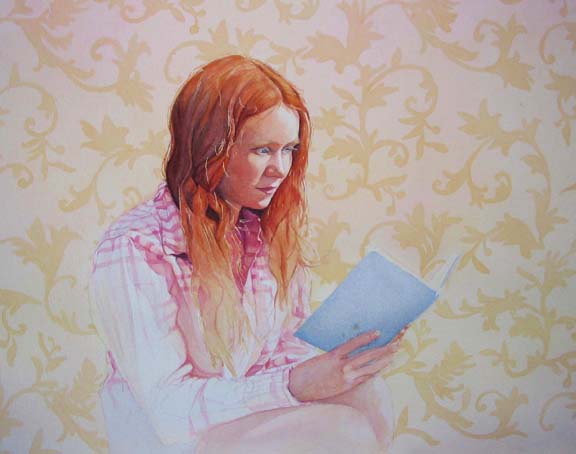 When I first moved to Victoria, I had a beautiful sun room that was my studio. I loved the view and the light. I also loved the warmth from the summer sun.
I was so excited to be in my new studio that I decided to start painting right away.
My painting was carefully planned out and I got to work. It was the above portrait. I have to mask a few areas of the hair and part of the hand so I could paint around it more easily.
After spending some time working on my painting, I discovered the one drawback of my sun room. My masking had baked into my paper in just a matter of a couple of days.
I was devastated!
I tried everything to get the masking off. Including sandpaper and an x-acto knife.
But to no avail. It would not budge.
So I then decided that I need to cover it up.
I got out my white acrylic paint and set to work.
I covered up the masking on the hand with a few thin layers of the white acrylic paint.
Then I painted with my watercolor and sometimes the watercolor mixed with the acrylic on top of the masking.
It worked!
I have since had other success when I have accidentally left the masking fluid on longer than I should.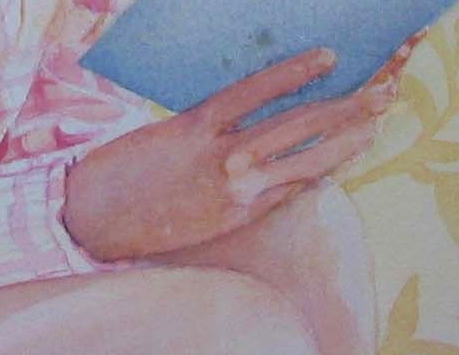 Hand after I used white acrylic paint to cover the masking fluid.
Watercolor paint as well as watercolor mixed with the white acrylic was used to paint the hand to match the rest of the painting.