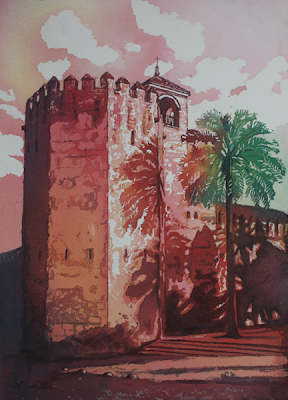 Alcázar de los Reyes Cristianos
(Castle of Christian Monarchs)
While in Spain, I taught my class how to do a poured watercolor. The above image is what we did.
It is of the
Alcázar de los Reyes Cristianos
in Cordoba.
This castle is located along the river near the Mezquita and was built in 1328 by Alfonso XI.
It is the castle where King Ferdinand and Queen Isabella resided when Christopher Columbus approached them with the request to fund his journey and subsequently the discovery of America.