A couple of weeks ago, I was invited by the very talented Nancy Goldman to be part of a Blog Hop. I was surprised to have received this invitation to be featured and to feature an artist whose work I greatly admire. I have been following Nancy's blog for years and she seems to have mastered water and waves in all different mediums.
Last week, Nancy featured me on her blog. Today I will be featuring her along with answering some questions about myself, then I will feature a couple of other artists.
"I love to experiment with most mediums and styles of art. I get bored easily and can't imagine painting in just one style or medium. My favorite medium is watercolor and I enjoy glazing multiple layers of color to create the finished painting.
Watercolor paintings have a luminosity that can't be achieved with any other medium. The transparency of the paints, along with the sedimentary qualities of some of the paint colors allow for a feeling of texture and light. There are many techniques possible with watercolor, from loose and watery to tightly rendered paintings, which makes each new painting a wonderful adventure."
Now to answer some questions about myself:
1. What am I currently working on?
I like to have several paintings on the go. I currently am working on an egg tempera of garlic, a watercolor of a cloudy sky, another watercolor of a night sky, and a small oil painting of Yellowstone. Since I teach so many classes in watercolor, I consider those paintings my day job (pretty good day job, wouldn't you say?) and the oils and egg tempera are for fun. So I tend to do those when I have an hour here or there (and there aren't many!)
2. How does my work differ from others of its genre?
I'm not sure that it is that different. I do like color and use it liberally. These colors are layered and stacked to create more depth. I also like detail, but not too much. My work is impressionistic with a touch of realism. One comment I receive the most about the watercolors I do is that people can't believe it is watercolor and I am able to get such depth and richness with the paint.
3. Why do I create what I do?
There are so many reasons why I create what I do. Some I recognize and I am sure there are others that I am not fully aware of. I do know that I create because I love. I love the people around me, the feel of the air, the way the light hits a subject, the interplay between light and dark, the movement of clouds, the wind, and patterns. I love color, a scene, a moment. I love the paint I am using, the feel of the brush, and I especially love when I can say all of what I am feeling without having to speak a word.
4. How does my creative process work?
I usually start with a photograph of a place or person that I have captured. Then I take that photograph into Photoshop and play with sizing and cropping, as well as adjust lighting and color. Photoshop becomes my sketchbook. Then I print it out, draw it out, and paint. Sometimes if I am having a hard time deciding between which photograph to work from, I will print out the images and put them in my studio. Then over the next few days, one of them will "speak" more to me than the other. That's when I know which painting needs to be done first.
Now I will feature other really awesome artists.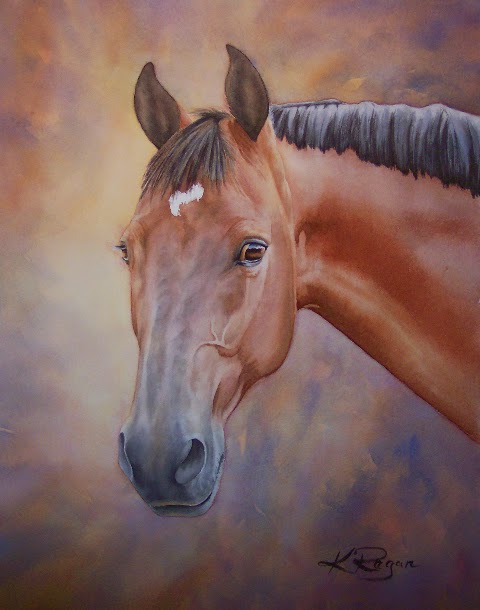 Bruno
watercolor
13×10″
Kathryn is a watercolorist that I started following several years ago. At the time I started following her blog, I didn't quite realize that she lived so close to Vancouver until I moved to Vancouver. Then one day Kathryn emailed me and mentioned getting together for a chat. We were instant friends. Kathryn's love of animals is evident in her paintings.
Kathryn was born in Toronto, raised in Vancouver, and now makes her home in rural south Langley, British Columbia. Here she indulges in her passions of horseback riding and art. She studied sciences for six years at the University of British Columbia, and graduated with a diploma in dental hygiene. Though having always loved to draw and sketch, it was only over the past few years that Kathryn devoted herself to working with
watercolor.
Kathryn is an active member of the Federation of Canadian Artists, and recently won second place in the "Works on Paper" show. Her work can be seen on her blog site,
Studio at the Farm
, and at Ballantyne Gallery.Kathryn is passionate about LIFE. As an artist, she brings ardor and technical proficiency to her creations, fashioning works that are realistic, vital and warm.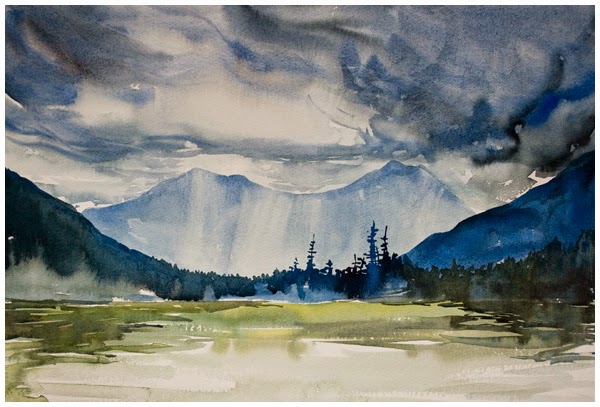 Angela is another Canadian artist from BC. She is a mother, artist, educator, and devout Christian. All of which I relate to very well.
These are her thoughts on her art:
"There is something about beauty that demands a response. Hands clenched on the steering wheel, feverishly memorizing tone, texture; vivid hues of sun-streaked sky, grain splashed with cobalt shadow. From panorama to palette to paper, watercolour my voice, a transparent, fluid means of savouring the glory inherent in the spaces I occupy.A self-taught watercolour painter, over the last twenty years my art career has been rich and varied. In addition to painting and teaching watercolour in my studio and online, I've worked as a graphic artist, web site designer and freelance writer; served on the board of a local art society; shown my art in solo and group shows; taught art classes to children and adults; been featured in magazines, newspapers and web sites; and even been featured as a watercolour expert for a local television station. The world is full of exciting opportunities and new people to meet, learn from and enjoy, and I love to be a part of it all.
I'm a member of the Federation of Canadian Artists (Peace River Chapter), the Peace Watercolour Society and the South Peace Art Society.
In addition to painting, I teach paper crafting, homeschool my three children, support my husband in his business and love living on an acreage in northeastern British Columbia. It takes creativity to live a full and interesting life, and I love creating art every day!"
Thank you to all of these amazing artists for letting me feature them. I hope all of you enjoy reading about them and being inspired by their talent.