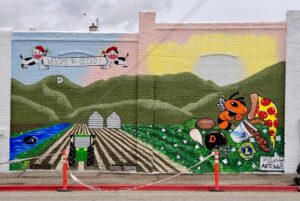 This past year I had the opportunity to work with a high school art club to create a mural in Declo, Idaho. Declo is a very small town of only 300 people. Most of the kids at the school come from the surrounding farms and area. It is a very close knit community full of ranchers and cowboys. It is also the town you pass through on your way to City of Rocks in Southern Idaho, which is a well known rock climbing and tourist attraction.
The idea was first proposed to city council at the beginning of the school year by the students. City Council really liked the idea and agreed to help in any way possible. It was then up to the students to find a business that would donate a wall to the art club. There aren't too many businesses to choose from in Declo but fortunately the main wall in town was donated. It is the butcher shop and can be seen just as you enter the town.
The art club students organized themselves into groups that designed proposals for the wall. These proposals were presented before a panel of judges. There were 5 proposals presented and the judges requested that parts of 3 of them be included on the wall. The students then had to work together to create another design that incorporated all of the ideas. In the meantime, the art club also organized a fundraiser for Valentines Day which was handmade cards and candy grams. The Declo Lions Club generously contributed the bulk of the money for the wall to the art club with the request that we put their logo on the wall. This was another design challenge for the students.
Once the weather started to get better (which is rare in Idaho) the students began work on the wall. Our art club president, who also happened to be one of the main designers of the wall, organized and delegated tasks for the different students. She worked almost nonstop on the mural. The painting itself took 4 weeks for the students to complete. Unfortunately it rained the last week of school and we were not able to photograph the art club until the last day of school which means the seniors are not in the photo.
Here is the mural with the art club. I am just so proud of them all. They did an amazing job and I hope that someday they will be able to show their kids the wall that they painted.