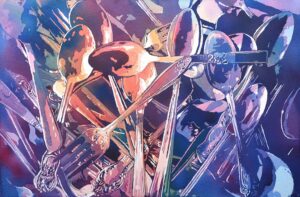 Fork That Ran Away With The Spoon
Watercolor
15×22″
Last Friday night I was awarded the wonderful award of Best in Show/Juror's Award at the Idaho Watercolor Society's Annual Show. I was just blown away and so glad that I made the time to go.
You see, I wasn't planning on going. I was moving the next day to Washington State to be with my new love and fiancee. There was just so much to do as we had to be on the road by Saturday evening. Plus I had seen several pieces that were in the show and thought, "Oh there is no way I will be a winner! There are way too many wonderful pieces that deserve the award!" However, I got a call that I received an award earlier in the week. I was surprised but knew that there would be 20 awards given. So my next thought was that it was one that received a small gift or gift card which could probably be mailed.
However, I did want to meet the juror, Iain Stewart, whose work I just love and admire, and it might be one of the few times I could make it to an IWS reception since I was moving. I invited my son to attend the reception and awards ceremony with me and was happy that he wanted to go. Upon arrival, I was still amazed at all the incredible pieces and decided it was a much better show than I previously thought. As requested, Iain Stewart gave me a critique. He even asked if I was sure I wanted a critique Of course I did! He only had good things to say which surprised me and I thought that made me night and was ready to go home right then and there.
It was a good ceremony with Iain discussing what he looked for in a winning piece. I waited anxiously to see which award I got, and the countdown started. The awards kept being handed out and my name was not being called! At one point I thought that maybe they missed me. But no! I got the grand prize of Best in Show!! It was so exciting and felt so wonderful, especially after hearing what Iain looked for in a winner. It was also so very validating as an artist to have your work seen and recognized. Thank you Iain and thank you IWS for the amazing honor.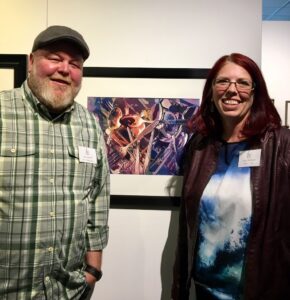 Me with the juror, Iain Stewart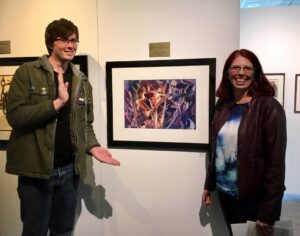 My son and I