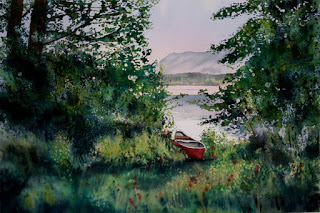 Red Canoe
14×20″
Since I am returning to school in Victoria to work on my Master's, I will be shutting down
my Etsy store
for the summer.
In preparation for this temporary closure, I decided to have a sale of the items that I have available through Etsy.
So from now until July 1,
all original paintings in my Etsy shop are 20% off.
Yeah!!
Most of these items also include free shipping.
What a bonus!
To receive this awesome offer, you do need to use coupon code Summer2012 upon checkout.
Etsy uses most major credit cards.
To start your summer shopping, just click
here
.
I also have more exciting news about my instructional DVDs.
They are now available for purchase by clicking on the DVD Store tab at the top or by clicking
here
.
The DVDs will still be available throughout the summer.
How great is that?