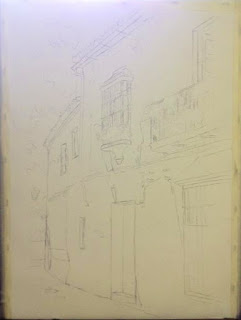 Drawing for Caja de la ventana
Today I am teaching a workshop in West Vancouver, BC on pouring watercolors.
Pouring watercolors is my most popular workshop, so I decided to photograph the process.
The above photograph is the initial drawing.
It is another painting of Spain.
Since pouring is based on understanding values, I find that the white buildings of Spain are wonderful for showing values.
I start off by stretching my paper and then I transfer my drawing onto my paper.
Next I mask the areas that I want to save, which at this point will be the white part of the building.
Then I pours my colors.
The colors I am using are Winsor Yellow, Permanent Alizarin Crimson, and Winsor Blue.
This is what it looks like after it is poured.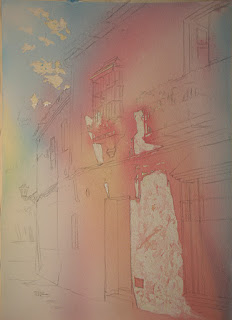 Pour #1