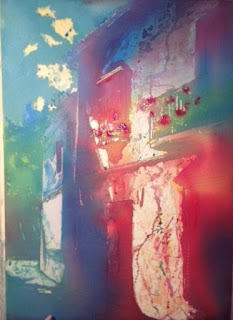 Pour #3
After pour #2 dried, I then masked more on my painting.
I work from a black and white photograph when I do my masking.
It is easier to see the values that way.
With pouring, I end up with 5-6 different values.
The first mask was the whites that I wanted to save.
The next mask was the next lightest value.
The third mask is a mid scale value.
The fourth mask will be a dark value (but not quite black)
At that point I can choose to mask again and pour my blacks or pull up the masking fluid paint the darkest darks.
For pour #3, after I have masked my mid values as well as the red flowers (I want to save them as is).
I mixed up my paint with more concentrated pigment.
I wet the painting again and I used an eye dropper to drop the color in where I want it and move the board around to let the color flow. Then I let it dry.
The above photo is the result of this pour after it has dried.