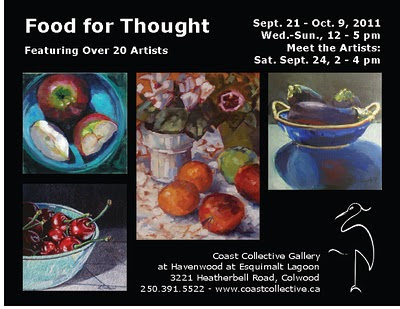 Food For Thought Exhibit
Sept. 21- Oct. 9. 2011
Colwood, BC
Starting tomorrow, three of my paintings will be on display as part of the Food For Thought exhibit at the Coast Collective Gallery. I was pleased to see that my Bowl of Cherries painting not only made it into the exhibit but on the poster as well. Woohoo!
The Coast Collective is open Wed-Sun, 12-5pm.
More information can be found on their
website
.
Hopefully some of you can make it out there to see my paintings and works from many talented Victoria artists.