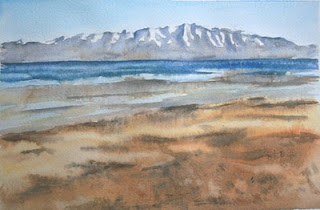 The Great Salt Lake/Farmington Bay
7×10″
To celebrate my move to Vancouver (and to clear out some paintings so I don't have to pack them) I am having a Holiday/Moving sale from now until January 15, 2011.
Everything in
my Etsy shop
is now 20% off. Please use coupon code
MOVINGSALE2011
at checkout to get this fabulous offer. There is also free shipping to Canada and the U.S. on several of the original paintings. Payment on
Etsy
is through PayPal which accepts most major credit cards.
Other items not found in my shop are also on sale. These original paintings and prints are reduced 10-20%.
If you live in the Victoria area, you are welcome to visit my studio and select a painting or two before this offer expires. Please
contact me
before you do so though! I might be in a sea of boxes if you don't.
If you are not able to visit my studio, please
contact me via email
about any of the paintings you may be interested in purchasing.
But hurry! You don't want to miss out on this great offer to own a Leslie Redhead original
Plus I will be packing everything up after January 15.