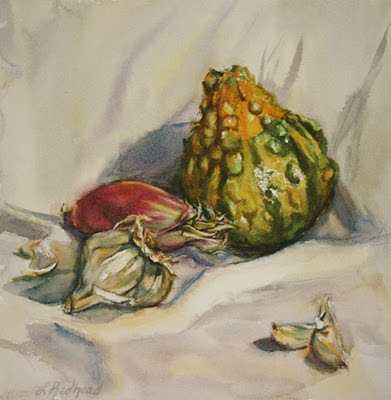 Autumn Harvest
9.5×9.5″
I just returned from an amazing week learning from The Watercolor Goddess,
Mary Whyte
. It was five intensive days of painting from life and trying to absorb many gems of watercolor wisdom. This opportunity came about because of my dear friend
Sam
who arranged for a group of us to go to Whidbey Island for the week.
Mary requested a few things from the group from the beginning. They were that we each produce a really bad painting and that we push ourselves to try something new. I not only produced a bad painting, but was able to produce a few. Those made into the circular file never to be seen again.
As for the second request, I felt like I tried several new things. First of which was to use a cat's tongue brush. The second was to paint a portrait from life in watercolor. I have painted portraits from life in oil and acrylic but not watercolor. I have also painted plein air in watercolor but not a portrait. Odd for me since I love watercolor so much!
The first couple of days were spent doing still lifes. The above painting is my attempt at painting produce from the local market.
Below is a photo of Mary with me and the rest of the gang.