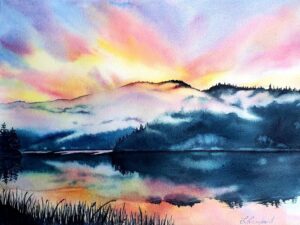 If you sign up for my newsletter or saw my promo video for the free course, then you know that I moved to Northeast Washington this past June, just north of Spokane near the Canadian border. My fianc

é and I are building a home and studio on a lake. It is a beautiful area with so many painting possibilities.
Sunrise over the lake is different each and every day and I love watching it every morning. I did this painting a few months ago but failed to post it until now. Morning Illumination is the view from the front room of the house, which is also where my temporary studio is located while we build the actual studio. My studio will still be located with a view of the lake, just beside the house.