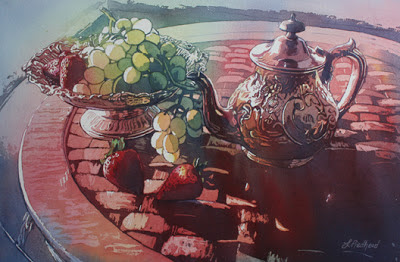 Summer Tea
poured watercolor
14×20″
Yesterday, I got some very exciting news. I have received signature status with the
Northwest Watercolor Society
. The official certificate arrived in the mail and I immediately put it in a frame and hung it in my studio.
That makes the second signature from a major watercolor society that I have received this year.
My courses for the summer are winding down so I can now spend a few weeks preparing to return to school this summer. I have plans to clean out my studio, finish a few projects I am working on and get some writing done for the thesis.
My daughter no longer has her early morning class (6 am) that I drive her to and from. I usually wake up around 5 am just so I can shower and be alert enough to get her there.
I had this great idea that I would still get up early and instead of the class, I could work on painting and the thesis in my pjs. Ha! It is Day 3 and can't seem to get out of bed before 7.
All my above plans are not going too well.
The painting above I have posted before. It is one that I did last summer at a demonstration. However, I pulled it out last week and decided to add some more color to it.
That post can be read
here
.
See if you can notice the difference.