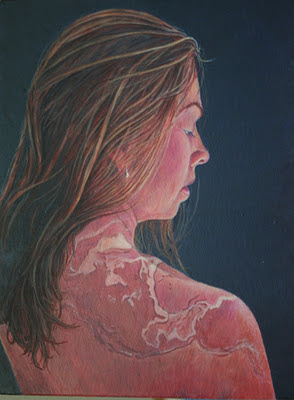 Of Atlas' Woes
egg tempera on panel
9×12″
I completed this painting awhile ago but wasn't sure if I was ready to post it. I tried to put it up on Facebook and the only respones I got were from close friends. Then another friend called me that had seen it, was worried, and asked if I was okay. Yes, I am fine. It did make me realize that most people want pretty pictures and this one can be a little disturbing.
Let me explain though. It is a self portrait. I did it over the summer as part of my studio project for my Masters. Part of my doing the program was to do something for me. I wanted an excuse to paint how I felt about things instead of what I usually paint. Something a little more conceptual. I also wanted to see if I could paint a portrait in egg tempera.
Of Atlas' Woes is my biggest accomplishment of this past summer.
To explain it briefly: What looks like a scar on my shoulder is actually a map of the world. I chose to make it look like a scar because when a crisis happens in your life and you feel like the weight of the world is on your shoulders, it does change (or scar) you.
I have gone through several crises the past few years and it was affecting my health. My neck and shoulders hurt constantly and it was explained to me by a massage therapist that the pain was a manifestation of how I felt. I did feel like the weight of the world was on my shoulders and I felt that there wasn't anyone in my life that could help lift that burden. Wow! She told it like it is.
So, this was my attempt at letting my loved ones know how I felt and hopefully relieving some of the pain.