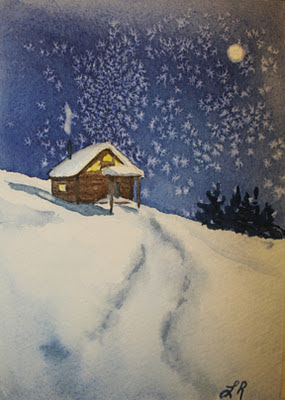 Cabin in the Snow
Holiday Card (5×7″)
Tomorrow (Thursday) will be my first online course through WizIQ. I will be teaching how to do the above scene in watercolor.
The course is at 2pm EST or 11am PST (for all you west coasties).
To join in the session, please click
here
.
It is a free course but you do have to sign up through WizIQ.
Since it is my first time teaching through this platform, please be kind. I might get lost every now and again trying to figure out what to do. It would actually be a great help to me to have a few people that I know there cheering me on and laughing with me over my mistakes. I do hope that you will join me!