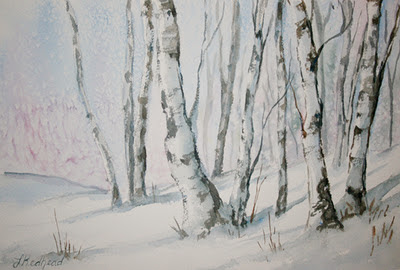 Winter Birch Trees
watercolor, 7×10″
Today was the last day for my Watercolor Landscape class at the Kerrisdale Centre. For our last painting, I had them do a scene similar to the above image. It was a simple painting of birch trees in winter.
I really enjoyed everyone in the class. They were a mix of all levels but were very supportive of each other. I look forward to seeing many of them again in the New Year.
I will be teaching at the Kerrisdale Centre again in January.
The course is Fun With Watercolours. It is some basic (and eventually not so basic) exercises in negative painting.
More information can be found by clicking
here
.
I will also be teaching a similar course to children (11+years). More information on that course can be found by clicking
here
.
Remember, there is a 20% Off Sale until Dec. 5
Please use coupon code CHRISTMAS2011 to receive the discount.