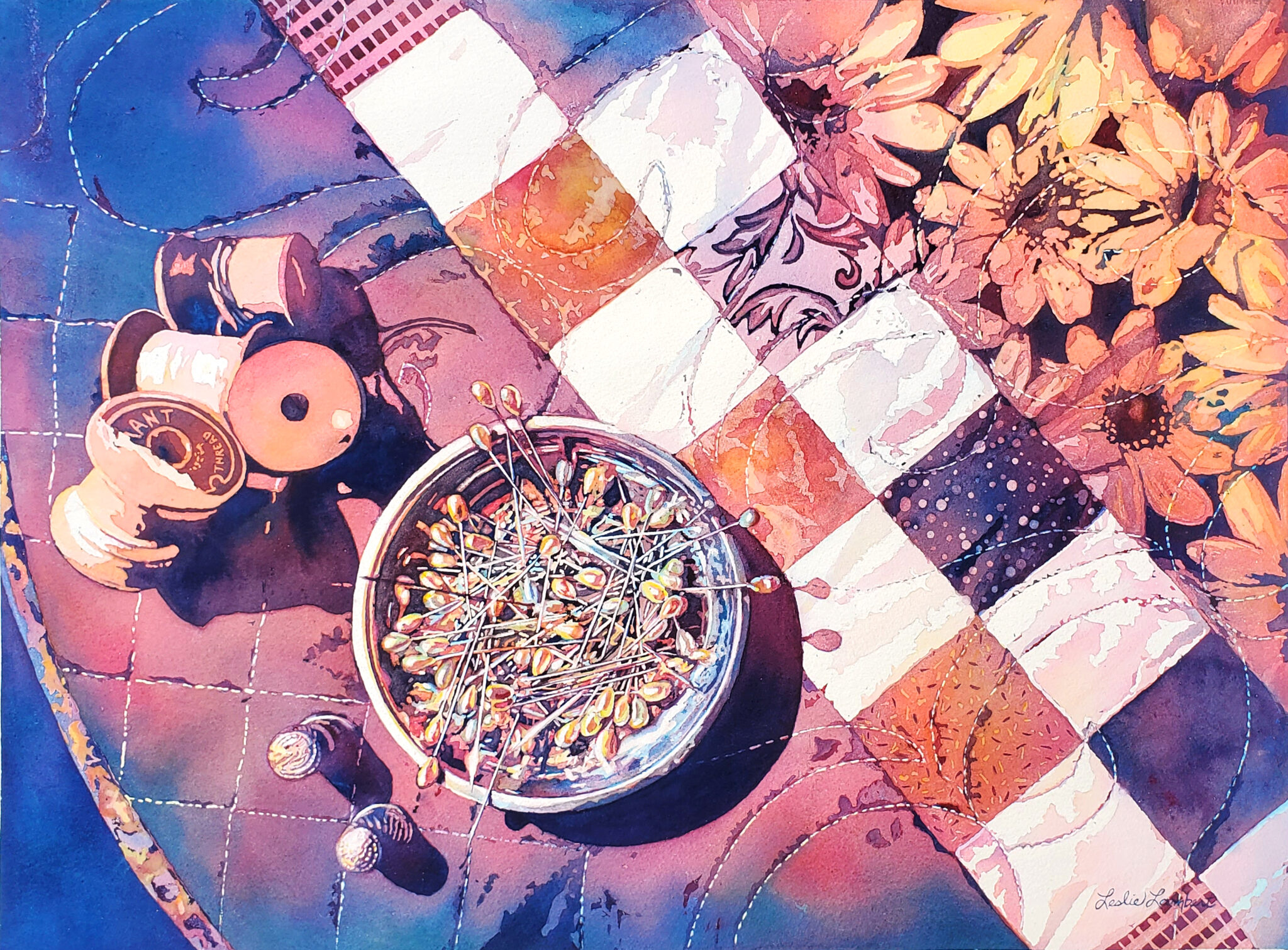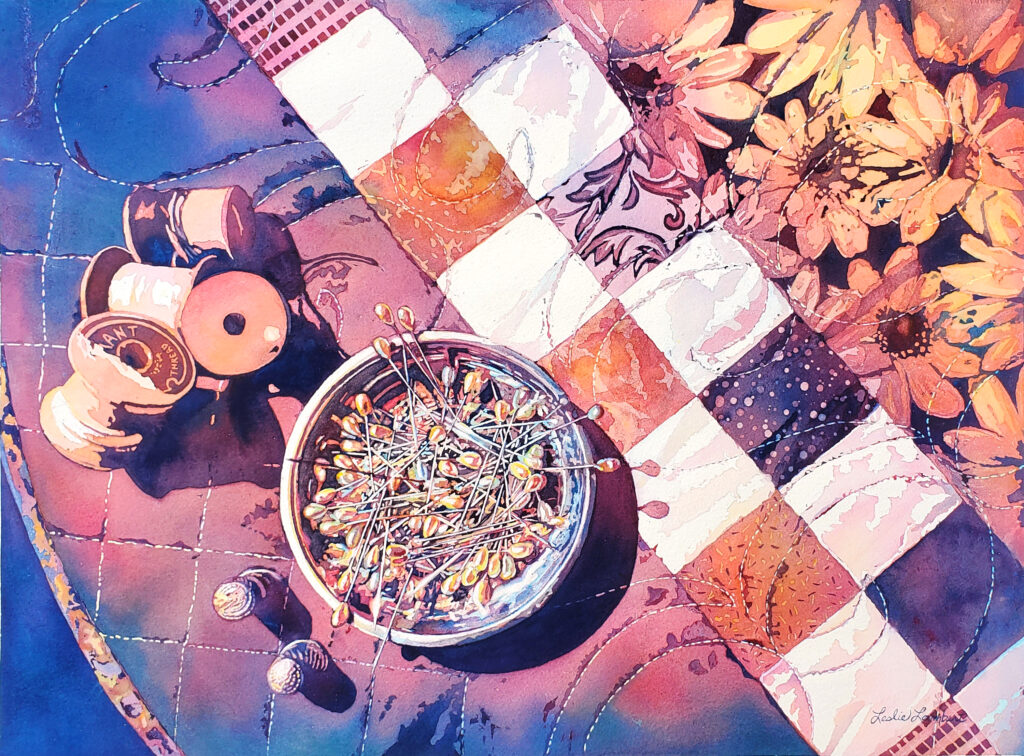 On Pins and Needles
Poured Watercolor, 21×28″
I am a huge fan of textile art, and especially quilting. I have often wished that I knew how to quilt. However, that is not my gift or my passion. So instead I paint quilts.
The reference for the painting was in my friend Pam's quilting studio. Pam makes these amazing quilts with vibrant colors and I couldn't resist photographing some of her work and her tools of the trade. I knew from the moment I took the photos, that I had a new subject for a pour. Below is my step by step process of the pour.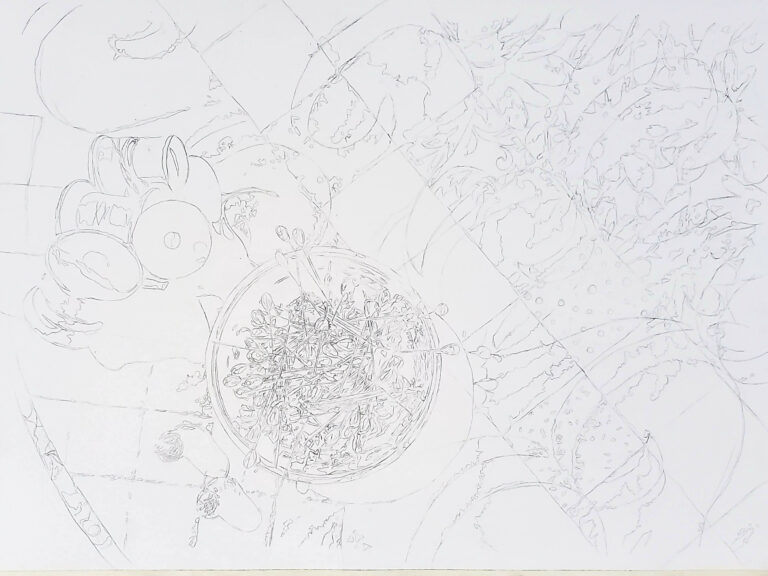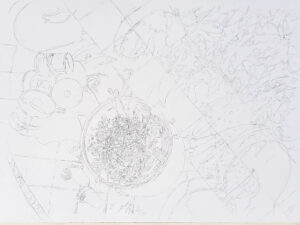 The Drawing.
I always start off my painting with a drawing. The pins took a long time to draw as I wanted to make sure the lines were dark enough that they would not fade as I poured successive layers of paint over them.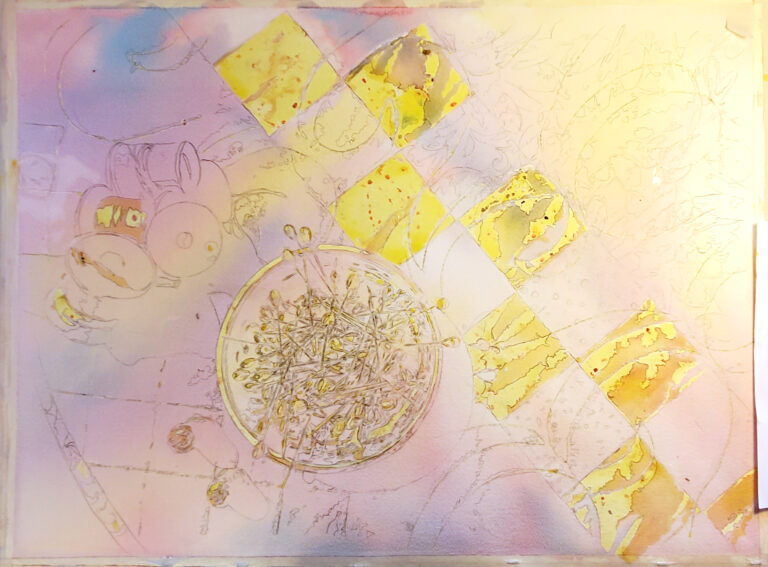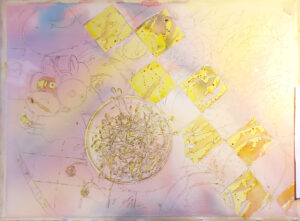 Pour 1.
After masking out my whites and pouring the first pour, this is what it looked like.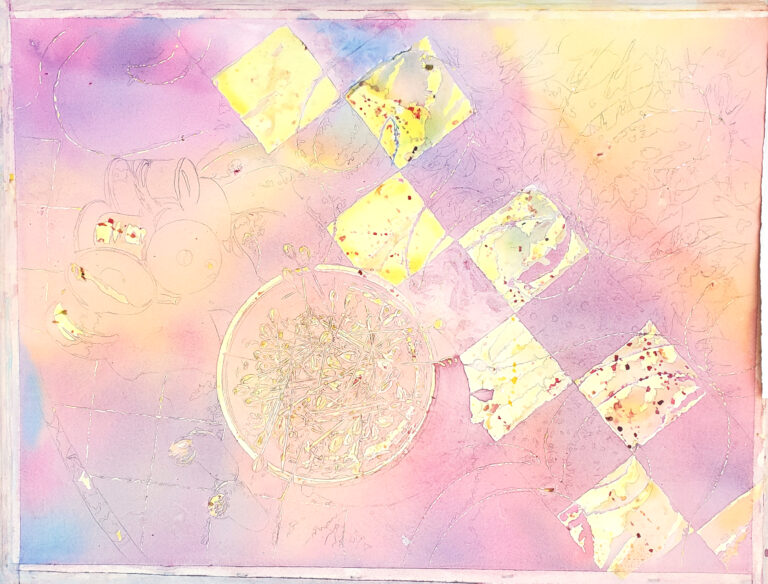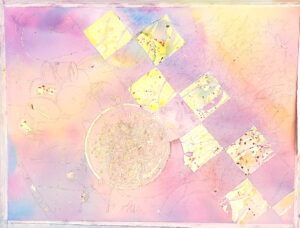 Pour 2.
For the next pour, I first masked out my lightest areas and then poured again. I will admit that my paper dried too quickly on this pour and my colors blended too well. I wanted to have more separation of the colors and realized I should have had more splashes of blue. It was difficult to keep the orange and blue from mixing though.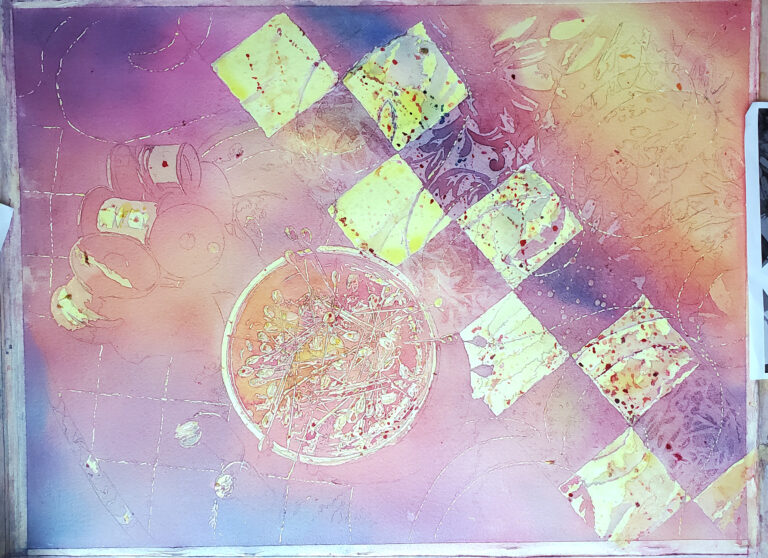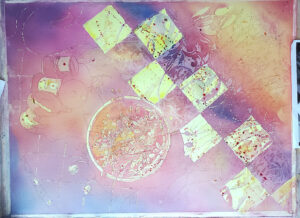 Pour 3.
As you can see, I tried to add more blue.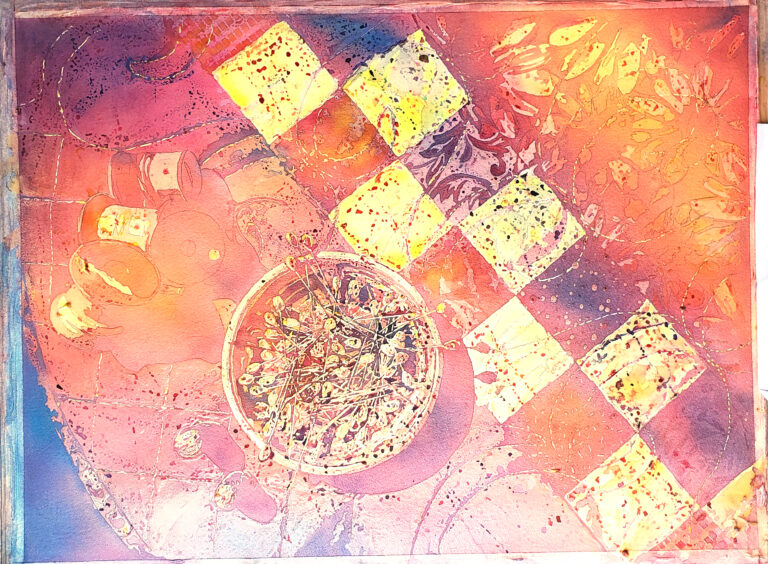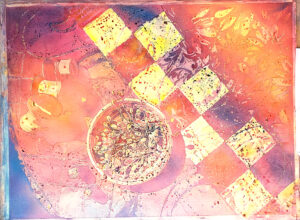 Pour 4.
Going darker. I feel like I lost the blue again. I also lost some of those pins and needles. I decided that overmasking was better than undermasking as I could paint in the details later.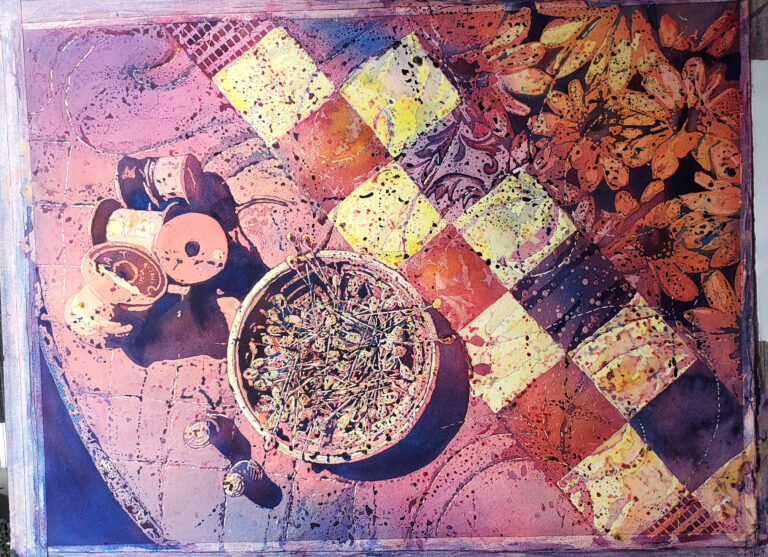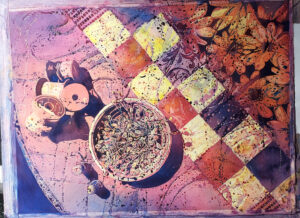 Final pour. I made the decision to make this my final pour even though I felt like the quilt was still too light. I still found the paper drying much too quickly and because of this, I was struggling with the getting the colors to move the way I wanted them to.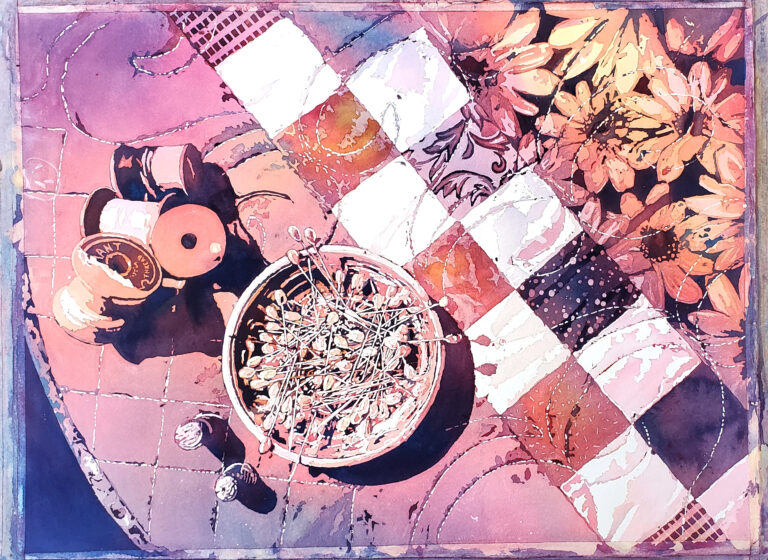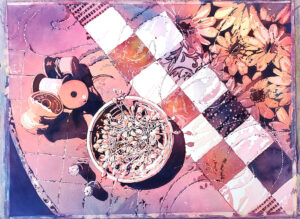 The Big Reveal.
I lifted the mask at this point even though I didn't feel like I had done enough pouring to make that quilt darker.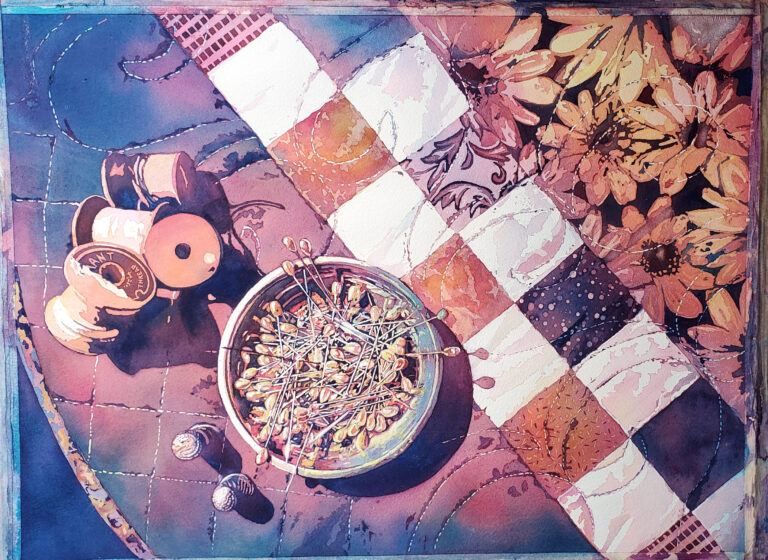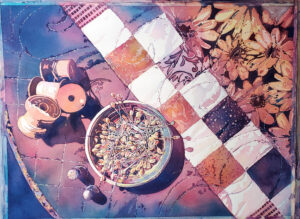 I wanted to go darker on the quilt under the bowl but instead of masking it out again,  I wet just the quilt area and dropped in the blue of the quilt and more blue into the bowl with the pins. I added more detail and color to the pins, needles, and threads by painting with a brush. I realized when doing this that I would not be a very good quilter as I missed some of stitching and wasn't very uniform with other stitches. It is probably a good thing that it isn't meant to be slept under (unless you hang a print of it above your bed). The final image is seen at the top of this post.
Due to several requests, this painting is available as a print by going to my Fine Art America Store by clicking here.