Here are some photos of my home that my mother-in-law took during the tour. It was a huge success. I sold several pieces and had a lot of interest in classes, inlcuding my Spain workshop. Yeah! I also find that I meet a new neighbor every time that I open my home for the tour.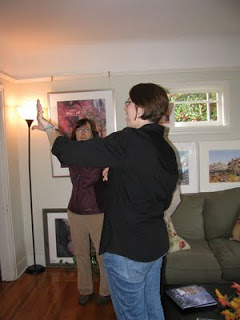 This is me explaining something to someone about the painting above my fireplace which happened to be . . . Mt. Baker! It was on loan for the weekend.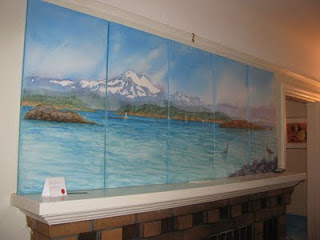 This is my friend and aspiring artist, Sam. She was a great help to me on Saturday.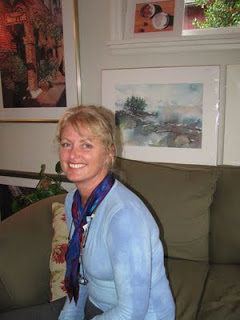 More paintings to come later this week. I took a break from painting because we did go camping in the rain after all! (Hard to paint in the dark and the rain) We went to Salt Spring Island to Ruckle Park. It only rained Tuesday night and was beautiful on Wednesday. Went to the top of Mt. Maxwell and felt inspired to take photos for more landscape paintings. Glad we did the trip. My son enjoyed having roasted hot dogs and smores for his birthday meal.
After the short camping trip, I, of course prepared for the tour and spent the last two days cleaning up and recovering. Now I must get back to painting.