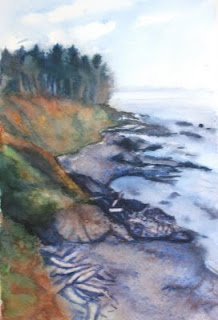 Today was the first day of my studio tour. The weather was cold but clear and the turnout was great. I met some wonderful people and several of my students stopped by to see my studio that I often rave about. (For those of you that don't know about my studio, it is a sunroom at the back of the house that overlooks my garden and has an ocean view).
I sold several pieces and had some interest in classes and in my trip to Spain.
My dear friend Sam was here to help when the crowds got unruly (ha ha) and to keep me entertained when there were lulls. Fortunately there weren't any lulls. It was a steady stream of viewers. She requested that I put a few select paintings up for her sister, Stacey, in Nova Scotia to see. So, Stacey, I hope you enjoy them and just look at some of my past entries for the other ones Sam wanted you to see.
This first painting is one of my small ones that I try to do in about an hour. It is of Point No Point on the west coast of Vancouver Island.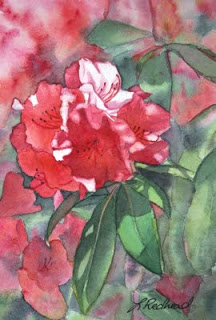 This is another small painting of rhododendrons. It is 8×10 with a matte.