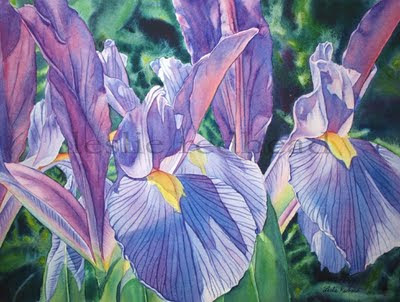 Purple Pinstripes
13×18″
Prints available through Fine Art America by clicking
here
.
Here is another iris painting from my series for the American Iris Society Convention in Victoria. I enjoyed the blues and purples. In fact, I didn't want to paint anything else this week and I was even dreaming in these colors.
The only problem is that I can only find time to paint for a couple of hours each day. I have yet to figure out how some moms work full time! I have enough projects and commissions to be a full time artist but between kids, house, and dog, it doesn't ever happen. I wish I had the energy to stay up late or get up early to complete these projects but it just isn't there. Instead I get up early to take my kids to classes or stay up late helping them with homework. I love being a mom and I became an artist so I could be home for them. Instead I am feeling overwhelmed. I guess every mother feels that way at times.
The school project I did stay up late with my 10 year old son last night was a presentation on Watercolor Artists of British Columbia. He was so sweet to choose me as the artist. I helped him choose a few others as well. (
Carol Evans
and
Harold Allanson
). I then had him paint his own watercolors.
These are his purple irises: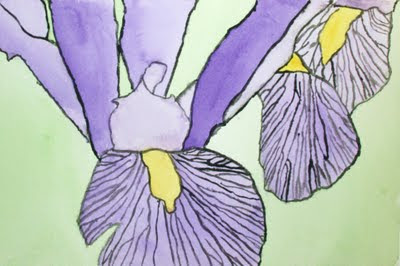 Purple Irises
by Blake Redhead