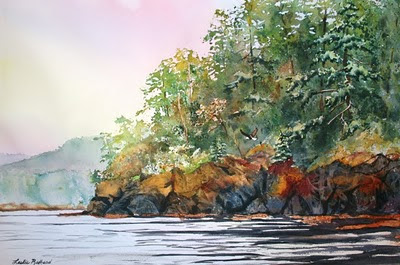 Island Memories, watercolor, 14×20″
I just returned from teaching a workshop at
April Point Resort
on Quadra Island this past week. The above painting is one that I taught the class how to do. We did washes of color and then had a little fun splattering the paint (some had a little bit too much fun by the looks of them and their neighbors!) The image is of a typical scene from the island. The views really are breathtaking.
It was a great group of painters of all different skill levels that I taught. I feel like each one came away with a beautiful painting of their own.
I will be teaching in the area again September 19-21. This time it will be at
Painter's Lodge,
which is the sister resort to April Point on the Vancouver Island side. For more information, please contact the
Oak Bay Marine Group.
PayPal and all major credit cards are accepted.