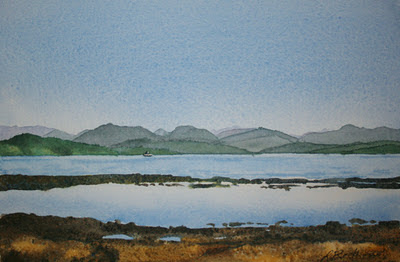 Rebecca Spit
watercolor, 7×10″
This is another painting I did for my landscape class. The image is from my travels to Quadra Island when I taught a workshop there.
This painting was done last week and I am behind in my posts but life continues to be crazy. Do you want to know how crazy?
Okay, here goes. After traveling to workshops throught Sept and Oct, I came down with the most depressing of flus. I say depressing because I didn't realize what I had. I was just exhausted and couldn't seem to stay awake. I felt like I was slogging through everything just trying to keep my eyes open! I thought that there was something seriously wrong with me and about put a call into the doctor after a week of feeling this way. But then I woke up one day with a runny nose and a bit more energy. For the next week I had a cold and the exhaustion seemed to be going away. Funny how that happened.
Now I am trying to play catch up for the past 2 weeks of not being completely myself.
I have a 15 page paper due for my Masters thesis (had to ask for an extension), classes to prepare for, a painting that absolutely needs to be finished, a huge demo next week, and two 2 day workshops that are back to back starting on the 12th. Plus it is Halloween. Pumpkins need to be carved (late, I know!) and trick or treating. Then my son tells me that he has to bring chips and fruit to the party today. Thankfully I found a bag of Tostitos and a few apples I tossed into his backpack. Didn't even slice the apples. Good thing he didn't care to wear the costume to school this year.