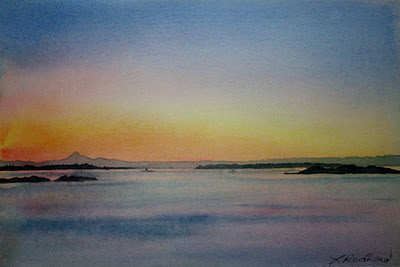 Summer Sunrise
7×10″
This past summer a kind friend loaned me the use of her home and studio while I was attending UVic.
The home was located near Oak Bay Marina in Victoria overlooking the ocean and with a view of Mt. Baker. The sunrises there were so fantastic that I got up between 5:30-6 every morning just to take a photo of them. I probably have about 30 unique sunrises.
Summer Sunrise was another demo for my landscape class. It is the first of many of my sunrises.