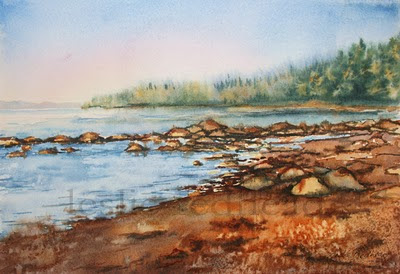 Rocks on the Beach at Sooke, BC
7×10″
This is the other painting I demonstrated at my workshop in Sooke. The painting is of the beach just down from the Ocean Wilderness Inn where Muir Creek mets the ocean. There are some beautiful rocks and the beach is always so quiet. On this particular morning, my daughter and I met two happy dogs and their owner. We were just glad that it was dogs and not bear since bear do happen to wander this beach.
Painting is matted in a white matte to fit an 11×14″ frame.
Shipping is free to Canada and the U.S.