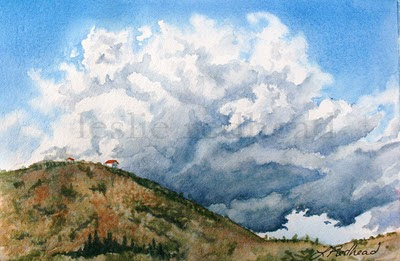 The Rain in Spain
7×10″
On my trip to Andalucia, Spain this past June, I discovered that the rain in Spain does not stay mainly on the plain (hahaha – couldn't help myself with that one). The group went there prepared for hot sun and what we got was a few days of showers and cooler weather. However, we also got to see some amazing clouds and it did cool off the weather enough to enjoy ourselves when we were out and about in the different villages.
I knew I was teaching a class this fall on skies, so while those amazing clouds raced overhead, I took tons of photos. This is the painting I demonstrated to my class yesterday from one such photo.
The painting is matted in a white matte to fit an 11×14″ frame.
Shipping is free to Canada and the US.