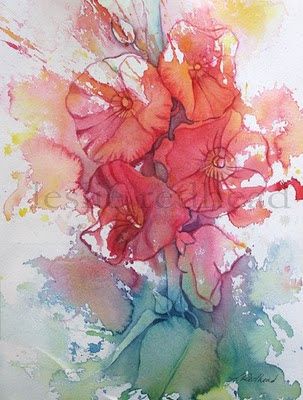 Hollyhocks
11×14″
This past week I taught class on negative painting. It is a fun class for those new to watercolor as well as those that are trying to grasp the negative painting concept.
The Hollyhocks I did as an example of what we will accomplish.
To begin, I use only my 3 primary colors mixed into liquid form. Then I poured my yellow and red, blew the paint and sprayed it with a spray bottle to move the paint around. Next I poured yellow and blue and repeated the above process, only below the red and yellow. After the paint is dried, I "find" my hollyhocks and my leaves by painting the negative shapes around them.
That is how the painting emerges.
For more information about my classes, be sure to click on the link to the right that says calendar.