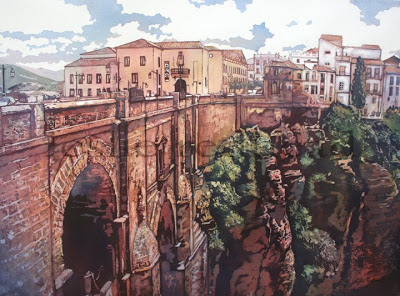 Bridge to Ronda, Spain
Poured watercolor
21×28″
Prints available through Fine Art America by clicking here.
Tonight is the opening for the Sidney Fine Art Show in Sidney, BC. I entered one piece this year and was pleased to discover that it was accepted!
Bridge to Ronda is a poured watercolor of the beautiful and historic Roman bridge that connects the older part of Ronda, Spain with the newer section. It spans the El Tajo Gorge. Along the cliffs of the Gorge are these wonderfully old homes that look like they are barely hanging on.
It is open 9am -9pm both Friday and Saturday. 9am-5pm on Sunday.
For more information please click
here
.