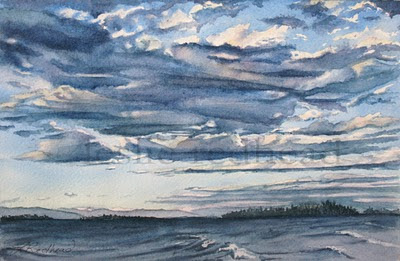 Sky over Rathtrevor
7×10.5
My son's friend came over yesterday and asked an interesting question. He asked that if I can control space, matter, or time, which one would I choose? The answer is definitely time! It has been an overwhelming week with classes, kids, house, and the many unfinished projects. If I could control time, I think I would stop it to first have a nap, then read a book, take a bath, and complete all those unfinished paintings that are piling up. It is always easier to paint when you feel refreshed instead of feeling like your eyes are drooping down to your socks.
The kids do have the day off from school today. I thought I would sleep in and wake up slowly. I slept in an extra 30 minutes. Woohoo! Guess my body is use to the early hours so that idea didn't work. At least I got to wander around in my pjs for a couple of hours. Then I insisted the kids take the dog for a walk which was a nice break for me.
Now it is back to playing catch up. I do hope I can work on the oil I started last night sometime this weekend.
The above painting is from my skies class that I am teaching. It was so detailed that it took me a couple of weeks to complete. The image is the beautiful sky over Rathtrevor Beach in Parksville, BC. It was a July evening and the wind started to blow. Since the clouds were moving so fast, the sky was constantly changing. Photos galore! So you may not have seen the last of this sky.