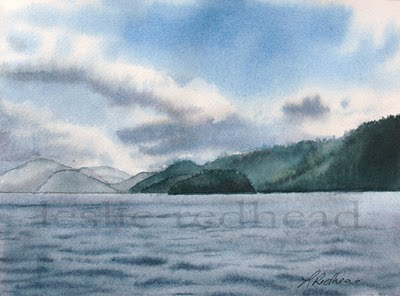 Discovery Passage
7×10″
This week I started teaching
The Wet Coast in Watercolour
at the Monterey Centre. It is a full class with 18 people and several on the waitlist. I was surprised and pleased to have so many in the class. It is nice to see several of my students in the class before I say goodbye. I will be teaching until the end of January but I think my replacement,
Sam Boehner
, has already won the class over.
To start the course, I showed a typical west coast scene with the islands fading into the distance. The goal was to teach ariel or atmospheric perspective.
The image is of Discovery Passage off the coast of Quadra Island. I was able to enjoy a boating trip while I was teaching at
April Point Resort and Spa
last spring. It is one of my favorite places to teach and will be returning again this June.