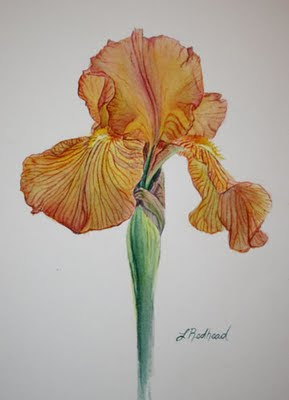 Tiger Iris
6×8″
The American Iris Convention starts next week. I am frantically getting ready and barely holding it together. Today I pack up the truck and leave for Victoria. The sun shines more over there so I am looking forward to it.
It will be a very full 10 days for me though. I start off the week teaching a 2 day floral workshop at the
Ocean Wilderness Inn
in Sooke, BC. (Yes, I am hoping to squeeze in another iris.)
Then I set up Monday morning for the show because it opens that afternoon. From Monday through Friday I will be sitting at my booth happily painting more irises! (If I am not too tired to paint)
Then I end the whole week with another workshop at the Monterey Centre in Oak Bay.
In between all of that, I hope to return to my favorite restaurant (Santiagos), have a run along my favorite beach, visit my favorite students and friends, and run my son around visiting his friends. Sometime among all that I am to meet with the university to discuss my Masters program.
Which brings me to more good news. I have been accepted into the Masters of Art Education program at the University of Victoria. Very exciting.