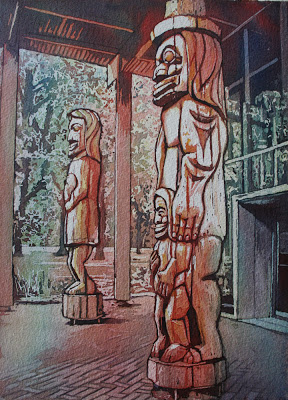 Totems
Poured Watercolor
(painting done by me)
11×14″
The final project for my summer at UVic was what was a called "The Visual Interview". It was a collaborative piece with another artist in the group. We were to give a piece of our work to this artist and they could do with it what they wanted. Either work on it themselves or create another piece as an interpretation of the piece. Through this process, we were to learn about that person and gain some insight into who they are. Then we formulate 5 questions to be asked in front of everyone else.
My partner was Cindy Ackland. She is a photographer and enjoys making photographic collages.
At first we interpreted the interview as a fully collaborative project. Cindy has a degree in philosophy and is full of fantastic ideas. We worked well together because she had these great ideas that I was able to create.
The first idea was to do a painting of the totems outside the First Nations House. Since UVic is known for its indiginous studies and we wanted something to remind of us our time on campus, we chose these totems as the perfect subject.
Cindy took photographs, I chose one and then I did a pour of the photograph.
Then Cindy took the original painting, had it copied and transferred it into many forms. One of which was onto glass. (I don't seem to have a photo of that one).
Another interpretation was to transfer it onto wood. This was my favorite. The wood showed through on parts of totems. It was so exciting to see. It also opened up so many other possibilities for me. Yeah!!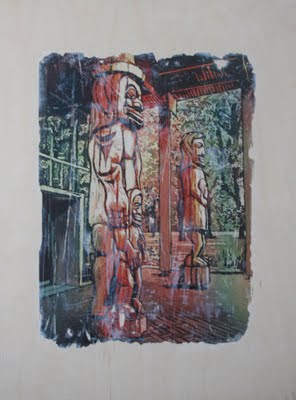 Totems
Watercolor print transferred on wood
by Cindy Ackland and Leslie Redhead
18×24″