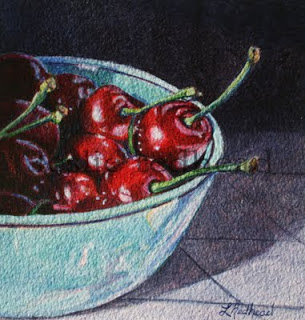 Cherries
Egg Tempera
6×6″
My studio class at the university this past summer was about play and experimentation. It was self directed and it was to get us thinking about what makes us creative so we can inspire creativity in others.
One of my goals was to do something I have been wanting to try for years- egg tempera. I have always loved the look of it and how luminous and rich it can be. For those of you that do not know what egg tempera is, it is the mixing of pigment with egg yolk. It is older than oil painting.
Cherries is one of the studies that I did in the egg tempera. I experimented with a couple of different surfaces while I figured out the tempering of the paint. This is on watercolor paper.