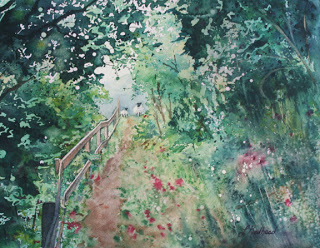 Woodland Pasture
11×14″
It was Fun and Free Watercolor Landscapes.
It was also a fun group.
For the workshop, I decided to put together a how-to DVD showing the steps of how to do the above painting.
I am in the process of redoing my website with a shopping cart and everything. Yeah!
For the meantime, if interested in purchasing the DVD, please contact me at leslieredheadart@gmail.com
Cost is $30 + shipping.
PayPal is accepted.