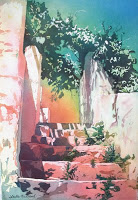 On Friday I met with Hilary and Mike Powell to discuss the workshop I am teaching in Spain in May 2010. It was very cool. Mike and Hilary are lovely, genuine people. They organize the workshop, Mike cooks, and I show up to teach.
We spent the evening discussing brochure layout and what to expect from the trip. The painting vacation is held in an old mill and bakery that has been converted into a bed& breakfast. This beautiful mill is in El Molino, right in the heart of Andalucia and about an hour north of Malaga.
So, I spent the weekend painting these steps for the brochure. I will be teaching a fabulous pouring technique in watercolor. It will be so exciting to be there and to take in all the sights and the culture as well as painting material! I am just buzzing with excitement.