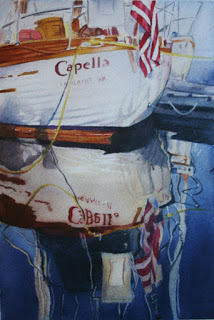 A Capella
7×10″
The next painting for my class on dynamic water was on how to do reflections.
A Capella is the finished product.
I really enjoyed doing this one and want to do more like it.
I have also been trying to figure out how to teach this course online.
There are a few formats that I am looking into.
I know I have talked about teaching online courses before but the one format I tried didn't seem to work that well for me. Plus I got busy with school, etc, etc.
In the meantime, I have been filming the painting process while I figure it out.
Perhaps I can get something together in the New Year.
If you have tried any online formats that you thought worked really well, I would love to hear about them.
Thank you!