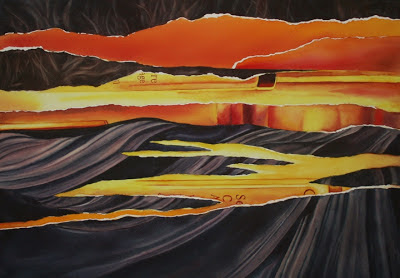 What Lies Beneath
watercolor
20×28″
This past weekend I taught a workshop on Painting the Abstract in Watercolor to 18 wonderfully talented artists.
Although I have done a few abstracts, this was the first course that I have taught on pure abstraction.
I say pure abstraction because I believe that all art is an abstraction.
It is a simplification of an idea into shape, form, line, color, tone, etc.
Picasso once said,
"There is no abstract art. You must always start with something. Afterward you can remove all traces of reality."
So starting in reality, I had my students abstract a scene.
The scene that I chose to abstract is one of Yellowstone National Park.
It is a landscape of a more serene part of the park. One in which I have painted before.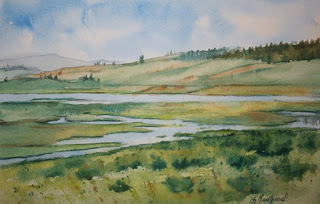 Yellowstone Park
7×10″
Taking this scene, I decided to abstract it and simplify it into shapes and add a different color palette.
Yellowstone is a caldera with remnants of this fact scattered throughout the area.
Geysers, mud pots, and thermal pools testify to the history of this place.
This calm, beautiful marsh land is not as calm as it appears.
Hence, the name: What Lies Beneath.