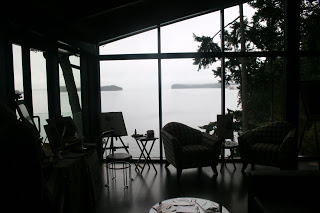 View of the living room and the spot that I painted in.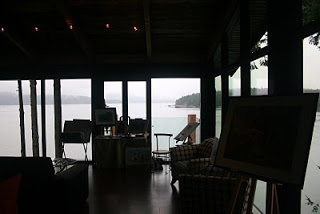 View from the other side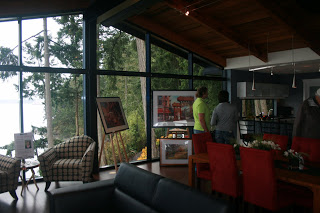 View of the kitchen area and some of my paintings.
This past weekend was the Art Gallery of Greater Victoria House Tour. There were 7 homes on the tour. In each home, an artist had been invited by the Art Gallery to display their work and to paint in the home.
This year the tour was held on the Saanich Penisula. It was a very wet day but it was still a sold out event.
I had never been in this area of the island so had the idea to try to get there earlier than told. I decided to follow the signs for the art tour and ended up at this gorgeous home. The house captain invited me inside and showed me a bit of the house. I was thinking "Yes! This is my home!!" Then the owner came out. She looked me up and down and said, "She's not our artist!"
Oh. I had the wrong house. Mine was 2 doors down. Thought that was kinda rude of her until I saw "her artist". Young, handsome, and male! I would have been disappointed if I saw me instead of him also.
The house I painted in was a 1960s bungalow that had been newly renovated. The owners had only been in the home for a month and they were very friendly. They invited me in and let me have quite a large space to paint in and to display.
The views were fantastic, overlooking the water and onto the other islands. The floor is leather. The kitchen has blue star granite countertops and basketweave glass tile. The master bedroom had a bathtub right in front of the full length windows and the tub was transparent!! Not for me, thank you. The ferry goes right by so I would not want to put on that type of show.
I wanted to paint the beautiful view but it was all grey and rainy. Plus I might get carried away and actually paint. Some of the volunteers freaked out when I tried to get water. I was not to leave any water drops in the sink or get any water on the floor. So I painted a portrait very carefully. And talked alot. That being said, I didn't get anything done.
Apparently I had the best spot as the artist. I was told that the other artists were tucked away or in the carports. Lucky me. And like I said, the homeowners were wonderful.
The best part of the whole day is the phone call I received this morning. I sold 2 paintings to one of the patrons. Woohoo!