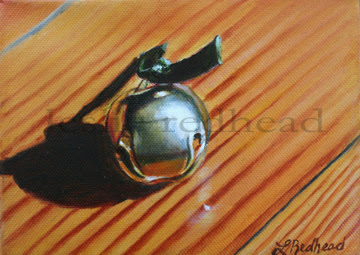 Christmas Jingle Bell
oil on canvas
5×7″
This past weekend was my big studio tour and it certainly felt like it was a prelude to the holiday season. Most of the island was covered in snow. It did snow in Oak Bay but fortunately it didn't stay. Lucky for me, the show was still on. Although some art connoisseurs may have been detered by the weather, many friends and art lovers made it out to my home. So, thank you to those of you that were able to make it.
Since I had enjoyed painting my other jingle bell in oil so much that I had to do another one. This one has a green ribbon instead of blue. The first Jingle Bell is part of the Small Treasures III show at the
Coast Collective Gallery
that opens this Thursday. The weather should be much warmer by then so hopefully you will make it out that way to see some of my work.