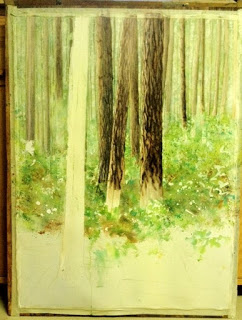 WIP of Trees
Title?
After posting yesterday's entry and having a good cry, I did feel better.
Then I painted. As I was painting, I started to count my blessings.
That always helps put things into perspective.
First and foremost are my children, of course. They bring me more joy than just about anything.
Then I realized that through all the hard times, I was not truly alone.
Not only is God just a prayer away but he has sent so many wonderful people into my life.
I continue to be blessed with a wealth of friends and people that care.
They have uplifted and supported me in more ways than they will ever know.
Even your comments and many of your works of art give me encouragement.
So, thank you to all of you.
I love my students, my friends, and my followers.
And yes, I still love being an artist. Even if it is hard.
The above painting is what I am currently working on.
It is of the forest close to my home in Vancouver.
There has been peace found in many of my walks through them.
They brought me peace again yesterday as I painted.