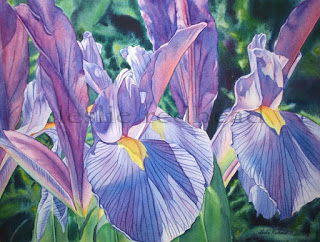 Purple Pinstripes
14×20″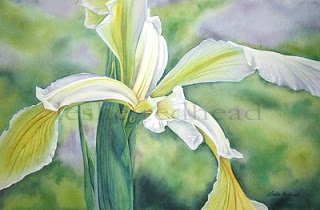 Butter and Sugar
14×20″
They are the two paintings above, Purple Pinstripes and Butter and Sugar.
I entered both and was pleased that they both got in.
The show runs April 3-15 at the Federation Gallery on Granville Island.
Both of these paintings were already framed for another show but I discovered that Butter and Sugar had fallen in the frame. I had bought some new linen tape to hold my paintings in place but realized that it doesn't work very well. Almost every painting I use it with falls off the mat.
I have since bought new tape but now I needed to reframe the painting.
Now you need to understand something.
I HATE FRAMING!!!
It is the bane of my existence as an artist.
My kids know that the only time I swear is when I am framing.
They have since learned to avoid the dark cloud of profanities coming from my studio whenever I do need to frame.
My whole framing experience started over the weekend just for this one painting.
I unscrewed the screws. Peeled off the backing. Pulled out the painting. And retaped it to the mat.
Easy enough.
This is when the problems start.
I try to wipe down the plexiglass very carefully using a damp cloth, then a dry one, and finally a dusting brush.
But no matter what I do, there is always dust and ever worse: black dog hair!!!
AAAAAAA!
I threaten my dog with a shaver everytime I see those black dog hairs.
I finally get rid of the hairs, put it back in the frame, secure it and go to put on another paper backing to discover I am out of double sided tape.
Of course.
I always run out of something while framing. I am actually surprised I got this far along before I discovered this. Okay. I need to go buy tape. Sigh. Don't feel like that now. I will go tomorrow to Staples to get tape. Good thing it is only Sunday.
Only on Monday my husband needs the car.
Okay. I can do it Tuesday. Paintings aren't due until Thursday. Plenty of time to go Tuesday. So I go Tuesday. It is only an hour of my time out of my day to get tape. Plus I need it to secure my bio and my acceptance notification to the back of the painting. But I need to find those on my computer first. And I have a folder filled with about 20 bizillion different bios depending what I need them for. Looking for the right one, printing out 2 as well as trying to find that darn acceptance email only took about 30 min. That is a record.
Okay. Stuff secured to the back.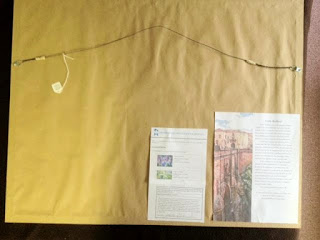 Whew! I look at the clock to figure out if I have time to take them to Granville Island.
I figure in need 90 min. for that trip.
Nope. Need to pick up the kids in just over an hour. Wednesday will work.
So yesterday after my long run, I finally made it to the Gallery.
And it wasn't raining. I hate delivering paintings in the rain.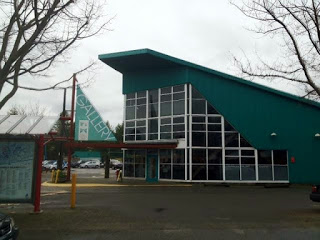 It only took me 3 days and 2 hours to do so.