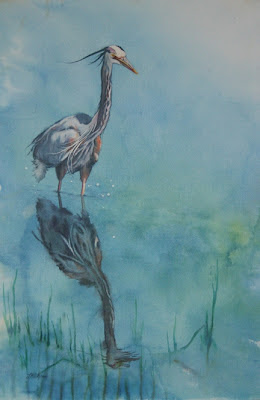 Great Blue
20×30″
On Wednesdays I teach a course on Birds in Watercolor.
My very first watercolors when I was 14 were of birds.
When I went to university, I got my degree in Zoology.
One of my favorite courses was on birds where I had to reconstruct a red tail hawk's skeleton using a real red tail hawk.
(The hawk was already deceased when I received him. Sadly, he had been hit by a truck.)
Immediately after university I worked as a zookeeper at Tracy Aviary in Salt Lake City.
I started to paint birds again when I was working there.
My first solo show was mostly of birds and I sold every single piece.
Then I stopped painting birds for awhile.
Guess I got them out of my system and I wanted to try something new.
Now I am returning to birds.
Since there are so many beautiful herons that live around us, (in fact one likes to roost in our backyard) I thought I would start with this magnificent bird.